3.5/4

3/4

3/4

3.5/4

2.5/4

2.5/4

3.5/4

3/4

2.5/4

3/4

2/4

2.5/4

3.5/4

3/4

2/4

3/4

2/4

2.5/4

2/4

3/4

3/4

3.5/4

3/4

2/4

2/4

Next 25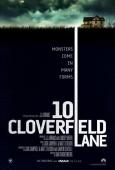 10 Cloverfield Lane
The Truth Is Up There
3/4 stars
First off, hats off to J.J. Abrams and company for pulling off a near impossible feat these days - dropping a gem like this with almost no leadup. Stealth marketing at its best - I was always expecting a sequel to Cloverfield and while this isn't technically a sequel (more like a distant relation) and it an entirely different beast, the film delivers a lot of tense moments and a kicker of an ending that you will either love or hate.

The film is essentially a three-person setup as we first encounter Michelle upset and packing her bags which, we learn soon after, is due to an argument with her boyfriend, Ben (Bradley Cooper provide a cameo voice-only role) and soon after going on a driving trip to who-knows-where she is involved in an accident. She wakes up in a concrete room hooked to an IV and chained to the wall. Soon after, Howard (John Goodman) introduces himself as the man with the shelter and tells her in no uncertain terms that the world above has witnesses an attack of some sort and that everyone above ground is dead. Michelle thinks the guy is a nuts (who wouldn't) and begins to plot her escape. But there is also Emmett (John Gallagher Jr.), a guy who helped build the shelter and who has bought in to the premise of an attack and although he is injured, is more than willing to go along with things to be safe.

The rest of the film is following the three in a tense relationship. Howard treats Michelle like his estranged (and he thinks most likely dead) daughter and becomes enraged at the thought of anything going on between her and Emmett. Emmett tries to play the joker, but fails and just makes things more tense. Meanwhile Michelle plays along but can't shake the feeling to escape and find out the truth. It's a kind of cat-and-mouse game between the three.

The movie does an excellent job of keeping the viewer guessing just what is going on. The biggest questions revolve around the enigmatic Howard. Goodman does an excellent job of playing the eccentric but seemingly nice guy - but he is prone to outbursts and seems to be projecting the loss of his daughter on to Michelle. Winstead is also good a portraying the tough victim - although she proclaims all she is good at is running away from her problems, she shows a lot of ingenuity and doesn't have much problem holding her own. Put these two together, and it's really a treat to watch.

While most of the film plays like a tense, personal thriller - the last 15 or so minutes are really going to determine how you feel about the movie. I won't give anything away, but suffice to say things take a drastic turn into vastly different territory as the film winds down. Granted, I thought is was a nifty trick and while I wanted to know about Howard and his motives, it does set things up nicely for another spinoff/sequel, should they choose to go that route.

This is a film that can be enjoyed on many levels and while its link to the original Cloverfield is rather tenuous, the film itself plays out quite well.