3/4

2.5/4

3/4

3.5/4

3/4

3/4

2.5/4

3/4

3.5/4

2.5/4

3/4

2.5/4

2/4

2/4

3/4

3.5/4

3/4

3/4

3.5/4

2.5/4

2.5/4

3.5/4

3/4

2.5/4

3/4

Next 25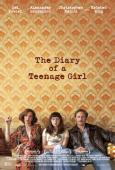 The Diary of a Teenage Girl
Sexual, Healing
3.5/4 stars
How long has Hollywood attempted to craft the perfect coming-of-age story? I think it's one of the more popular subjects - but it is certainly hard to get right. Often films don't take things seriously enough or fall into the trap of being too sappy to take serious. I admit, one of my favorite films is Almost Famous - which has a coming-of-age vibe too it. Play it safe - I think that's an apt description of many of these type of films, which makes Diary of a Teenage Girl all that more refreshing. The fact it focuses on a young woman, and shows how raw and real things really are, make this one of the better films in this particular genre.

Based on the book from Phoebe Gloeckner (who has a cameo in the film and also based the work partially on her own life) we follow 15-year-old Minnie, growing up in the late 70s San Francisco. As we open the film, Minnie is overjoyed at the fact she has just had sex. Not only that - she also really liked it. The object of her awakening is her mother's kind-of boyfriend Monroe, much older than her, but somehow doesn't seem that much more grown up (I was reminded a bit of Matthew McConaughey's Wooderson character from Dazed and Confused). Minnie's mother, lost in a daze of drugs an partying, doesn't take much notice - of either her daughter or her newly-discovered passion for sex.

The movie treats sex almost like a drug for Minnie. The "nyphomaniac" designation is thrown out but I don't think Minnie has a compulsion for sex - more like she has a need for companionship. With Monroe, with a fellow classmate, even with her best friend, Kimmie. It's not really about the sex, it's about that connection, that ability to feel like another person needs you as much as you need them - something Minnie obviously isn't getting at home. Her father is in New York and her mother is often in a daze so she seeks out this connection where she can find it.

The casting is spot on - Bel Powley has a bright future ahead of her is Diary is any indication. She is a revelation as Minnie - as conscientious about her looks as she is adventurous about her burgeoning sexuality. Kristen Wiig dials down the comedy playing Minnie's mother, often fueled more by drugs than emotion - but when it comes out, it's powerful. Alexander Skarsgĺrd's Monroe is the quintessential cool stoner - not the brightest bulb in the box, but exudes that vibe. Christopher Meloni has a short but important role as Pascal, the absent father wile Madeleine Waters is also a great choice for Kimmie.

The film captures that 70s spirit - from the clothing to the music - with aplomb. It also has some excellent use of animation as Minnie, a budding artist, draws out her own life story. It works, and the art style is excellent. The tone is really set, and the entire film does a great job of setting the scene.

Some people may be uncomfortable with the way sex is portrayed - and that may be part of the point. But for a coming-of-age story done right, you won't find a film much better than The Diary of a Teenage Girl.