3/4

3.5/4

2.5/4

2.5/4

3.5/4

3/4

2.5/4

3/4

2/4

2.5/4

3.5/4

3/4

2/4

3/4

2/4

2.5/4

2/4

3/4

3/4

3.5/4

3/4

2/4

2/4

3/4

3.5/4

Next 25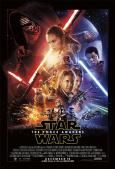 Star Wars: The Force Awakens
I Feel a Great Resurgence in The Force
3.5/4 stars
Make no mistake, I am an unabashed Star Wars fanboy. I have also been anticipating this film ever since Disney announced they took over the Star Wars franchise. Even though I don't consider them as bad as other people, I admit the prequel films didn't have the same impact, the same spark that the original trilogy has. But what would Disney and J.J. Abrams bring to the table? It turns out, having a fanboy as the director is one of the many keys that drives The Force Awakens to both new and familiar territory - but, more importantly, captures the spirit of the original films and once again propels Star Wars to the forefront as the ultimate sci-fi fantasy series.

Abrams has already relaunched one sci-fi franchise in the form of Star Trek - although that reboot left some fans indifferent (I, for one, enjoyed the new films). With Star Wars, he took on an even bigger challenge. How to pick up a story 30 years after the films so many people know and love - especially with an established Expanded Universe. When they kind of threw out the whole Expanded Universe and started over, yeah, I admit, I felt a bit angry. But in the end it was all for the best.

The film works on just about every level - from the settings to the music to the characters (both familiar and new), it essentially hits all the right notes. Some people may complain that this is a bit too much like a retelling of A New Hope, but don't listen to the haters - this films stands on its own. One of the reasons this film works so well is that they managed to round up an excellent cast. A mostly unknown Daisy Ridley and a barely known John Boyega form a perfect pair of misfits - an orphaned scavenger on a desolate planet and a former First Order stormtrooper on the run after witnessing first hand the evil his order stands for. Combine these two with the precocious BB-8 rolling droid and the three manage to make a great team. They have great chemistry and don't miss a beat - be it comedy or some more serious moments.

Then you have the veterans - Harrison Ford and Carrie Fisher are a sight for sore eyes (and Chewie too!). The two together is a treat - but Ford plays off Ridley and Boyega with just as much swagger as when he was a much younger "hero". Every scene they share is gold and Ford, after years of being a bit sore about the role of Han Solo, finally seems to accept it and really shines, moreso than his last stab at Indiana Jones. Oscar Isaac does his best at combining the best aspect of a young Luke Skywalker and Solo as the Resistance hotshot pilot Poe Dameron who has skills and confidence - also a great casting note. Adam Driver plays new baddie Kylo Ren with a growling menace - he wants to be evil, but continues to struggle with his feelings. Mask on or off, Driver plays the part with an equal measure of hatred and, at times, guilt.

Other things the films gets right: the music - John Williams is in top form, the score really does make a point. Not quite anything as memorable as The Imperial March, but it seems to do a better job than the prequels. The film also gets the effects right. Unlike the prequel films, it doesn't feel like a load of CGI overload. Yes, there are plenty to go around, but it just works better here. Especially good are the creature effects - for every CG creation (such as Lupita Nyong'o's aged pirate Maz Kanata or Andy Serkis' holographic Supreme Leader Snoke) there are plenty of practical creatures, including a few familiar faces (Ackbar is back - and no traps this time!). The sets are also great - from vast desert vistas to mossy, overgrown forests to a frozen base - the film does a great job of continuing the tradition of having amazing, and varied, locations.

But none of the above would have made a difference if the story didn't live up to the expectations. And, yes, it does take plenty of cues from the original Star Wars films - but I don't necessarily think that is a bad thing. Without going into too much spoiler territory - Luke Skywalker is missing following a tragedy after trying to revive the Jedi order. Without his leadership, The First Order has taken the place of the Empire while Leia (now a general) leads the Resistance in trying to stop them. When a new lead on Luke's whereabouts turn up, she turns to her greatest pilot to track down the lead - only he finds himself in the crosshairs of the First Order and sends his trust BB-8 droid off with the precious information - and that droid just happens to wind up in the hands of Rey, our orphaned scavenger. I don't want to say much more other than our disparate band of brothers meet up at some point in time, meet some interesting characters (some nice, some not so nice), witness plenty of action (both on the ground and in the air) and, of course, get sent on a mission that literally spells life or death for the Resistance.

It's exciting, it's funny, it's moving - i't's everything I wanted in a new Star Wars movie - and then some. I have to say, my expectations were certainly high and they were all met. If this is the future of Star Wars, I believe it's in good hands and I truly cannot wait to see where the story goes next.