3/4

3.5/4

3/4

3/4

3.5/4

2.5/4

2.5/4

3.5/4

3/4

2.5/4

3/4

2/4

2.5/4

3.5/4

3/4

2/4

3/4

2/4

2.5/4

2/4

3/4

3/4

3.5/4

3/4

2/4

Next 25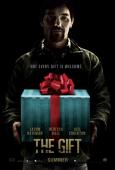 Gift, The (2015)
The Truth Hurts
3/4 stars
The Gift is the rare film that not only keeps you on your toes, but does so in a way that is both clever and unnerving. Joel Edgerton's directorial debut gives me high hopes for his future behind the camera. Plus, he proves that Jason Bateman can play manipulative and scary just as well as he can play the funny guy.

We open with Simon (Bateman) and his wife, Robyn (Rebecca Hall) in the process of moving from Chicago to California. Simon is in line for a new job and Robyn is trying to find stability after losing a baby. Soon after, while shopping, they run into Gordon "Gordo" Mosely - who Simon went to school with. After finally realizing who he is, they chat up a little and head back home. Soon enough, Gordo is leaving them gifts and stopping by unannounced. Though Robyn finds him a sweet is socially awkward guy, Simon finds him a bit creepy. After speaking with a few of his co-workers, Simon decides to break off this one-way friendship - but that is only the beginning as Robyn digs into the relationship between Simon and Gordo and discovers sometimes you don't even know the people closest to you.

The film does a great job of presenting its characters - then turning them on their head. Simon is the level-headed go-getter and loving husband - until he isn't. Gordo is the weird stranger who is overly-nice and, yes, kind of creepy - until he isn't. Edgerton proves he can direct and act - while Bateman is the real standout as Simon. Hall does a great job as well playing the wife who is just trying to figure out who these people really are - while trying to stay sane. Though there are other supporting characters, these three are the main focal point - and all three do an excellent job with those characters.

Good characters can get you far, but without an equally good story, a film will fail. Luckily, The Gift also does an excellent job in this department. The movie manages to leave you continually question who you should be looking out for - just when you think you have it all figured out, it shifts yet again. Edgerton also makes use of the sound and camera angles to give things an edge. That doesn't mean the movie is all good, however.

One thing that bothered me was that Robyn, the wife of a man who works in cyber-security, wasn't able to use basic technology (like, say, Googling a name) to find out the real truth behind the people in her life. Heck, you would think she would have found out some things about Simon before she married him. The other thing is the ending doesn't provide enough closure for me - leaving things a bit too ambiguous for my tastes (though it still has a good ending overall). It somewhat tempered my overall enjoyment, but The Gift is still one of the better thrillers I have seen lately.

Overall, The Gift hits mostly the right notes. From a first-time director, it's excellent and really manages to bring out some unexpected (in a good way) performances. And remember, just because you think you know someone doesn't mean you know everything about them - and the truth, well, it can always be brutal.