2.5/4

3/4

2.5/4

3/4

3.5/4

3/4

3/4

2.5/4

3/4

3.5/4

2.5/4

3/4

2.5/4

2/4

2/4

3/4

3.5/4

3/4

3/4

3.5/4

2.5/4

2.5/4

3.5/4

3/4

2.5/4

Next 25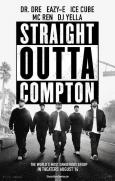 Straight Outta Compton
The Straight Dope
3/4 stars
You have to go in to any biography expecting some stretching of the truth (some more than others). This is easier when your subject is mostly in history books, but becomes much more challenging when the person (or in this case, group) in question are still in recent memory. The rise of NWA and their brand of music was an indelible part of the entire hip-hop/rap industry and while I'm sure certain liberties were taken, Straight Outta Compton does an excellent job of covering their story.

A film can only be as strong as your characters. The casting is spot on - the son of Ice Cube, O'Shea Jackson Jr., is a spot-on choice for his father. Corey Hawkins is perhaps given the most coveted role as Dr. Dre. Jason Mitchell is likewise a standout as Easy-E with Neil Brown Jr. and Aldis Hodge rounding out the group as Dj Yella and MC Ren. Paul Giamatti lends his slightly slimy vibe as the group's manager, Jerry Heller while R. Marcos Taylor makes his own impact as the unbalanced and somewhat terrifying Suge Knight. All in all, although many of the actors are relative unknows, you couldn't ask for a better cast.

Being this is a biopic about a musical group, the most important aspect aside from the story and actors has to be the music. In that, the film hits it out of the park. NWA was just a bit before my time (in 1988 when Straight Outta Compton was released, I would have been 9), although I was quite aware of the rise of West Coast Rap (including solo Dr. Dre and the likes of Snoop Dogg), it was never exactly my cup of tea. Still, I can look back now and realize just how much raw talent they had - and the movie reflects that - music, lyrics all of it comes at you like a Mack truck and doesn't back down. And while it gets a bit rushed at the end, cameos from the likes of Snoop Dogg and Tupac make you realize just how much of an impact the members of this group had. From a garage studio to sellout crowds - the most pumped up scenes are the ones where they are making (or playing) their music. Even if you're not a fan of the whole gangsta rap genre, you have got to have respect.

Really the only failing is that the film (which originally ran at 3 1/2 hours) feels both too long and yet leaves you wanting more. The early days are given plenty of attention but, as I said, the ending feels rushed as they try to pack in as many little things (writing the script to "Friday", recording with Tupac, Suge Knight's violent nature) as possible - things that could have made a whole second movie in my opinion. It also pushes the "LAPD are racist A-holes" angle a bit much - though I have no doubt it probably really was that bad.

The movie isn't perfect, but it is a pretty excellent portrayal of an iconic group that shaped the face of music in my lifetime. I'm usually wary of biographies because of how much they often get wrong, but, in this case, it appears they do much more right than wrong and it shows.