2.5/4

3/4

2.5/4

3/4

3.5/4

3/4

3/4

2.5/4

3/4

3.5/4

2.5/4

3/4

2.5/4

2/4

2/4

3/4

3.5/4

3/4

3/4

3.5/4

2.5/4

2.5/4

3.5/4

3/4

2.5/4

Next 25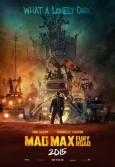 Mad Max: Fury Road
High Octane Thrill Ride That Delivers
3.5/4 stars
It has been a long and troubled road to bring Mad Max back to the big screen - but it looks like all the behind-the-scenes drama was worth it as Fury Road is the best action movie of the year and, I would argue, one of the best to come along in years. What makes it work is the lack of CGI and the reliance on a lot of amazing stunt work as well as the impressive turn from Charlize Theron who raises the bar for action heroines.

Despite being titled "Mad Max" Tom Hardy really plays a supporting role. The film opens with Max, who has survived the harsh future, where gas has become the hottest commodity, but not without sacrifice. He has lost his family, friends and has earned his nickname wondering if he is mad... or if it's everyone else. He is captured by a group of bandits run by Immortan Joe (Hugh Keays-Byrne) - who is hooked up to a machine to keep him breathing (along with suffering from some nasty skin lesions) but none-the-less controls his piece of the world thanks to controlling a source of water. He keeps a harem of women "breeders" as well as an army of half-life warriors (so named due to the radiation that shortens life spans). One of his high-ranking warriors, Imperator Furiosa (Theron) is going on a run to Gas Town and Bullet Town (not the most original of names) for a supply run - but soon after makes a detour.

Soon enough, Joe finds out she has taken his prize breeding women and summons all the forces at hand to go after her. This includes warrior Nux (Nicholas Hoult) who brings his "bloodbag" along with him (wouldn't you know it - Mad Max) so he can drive. Thus begins what is arguably one the longest, and most impressive, car chases in film history. Mad Max was filmed in Nambia, across vast deserts and canyons and about 80% of the effects are practical - stunts, makeup, sets and the like - and I think this greatly enhances the tone and impact of the film.

The film is very visceral - you feel the action, the explosions, gunshots, crashes - it's all very in-your-face and unrelenting. Despite that, unlike, say, Transformers, the action is also much easier to follow. It's intense, and often over-the-top, but it never feels fake or cheesy. And the characters - man, if you want female empowerment in action, look no further. If Theron could kill you with a look - she would have taken out entire armies with the dagger stares she throws out in Fury Road. She cranks things up to 11 and never lets down on the gas. And she is surrounded by a supporting cast - Rosie Huntington-Whiteley, Riley Keough, Zoë Kravitz, Megan Gale, Melissa Jaffer, Abbey Lee and Courtney Eaton - that gives women everywhere a reason to cheer. From toting sniper rifles and explosive spears to shotguns, handguns and even knives - thought they may appear to be fragile and scared, these women know how to fight.

The men in the films (given names like Rictus Erectus, Slit, The People Eater, The Organic Mechanic and The Doof Warrior) are all either twisted, unhinged or insane - yes, even Max himself isn't exactly "hero" material. The characters all seem to suffer from some malignant sickness (likely due to the radiation) or mutilation. They are mean, ugly and ruthless. When someone gets their face blown off or is crushed under the wheels of a vehicle, you don't feel bad. Mad Max doesn't exactly glorify its brutal violence, but neither does it shy away from it.

For pure action, you're not likely to find another film that delivers in such a way as Fury Road. It never hides what it is but, surprisingly, for all this action it does have a good plot, one that provides a nice commentary on how we view and treat women, and the dangers of following the wrong man (or even the right one, sometimes). Enjoy the action, sure, but know there are layers under all that grit that make a lot more sense than all the mindless movies Hollywood tends to throw at us.