3/4

2.5/4

3/4

3.5/4

3/4

3/4

2.5/4

3/4

3.5/4

2.5/4

3/4

2.5/4

2/4

2/4

3/4

3.5/4

3/4

3/4

3.5/4

2.5/4

2.5/4

3.5/4

3/4

2.5/4

3/4

Next 25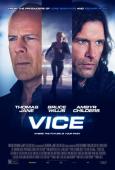 Vice (2015)
Not Enough Vice
2/4 stars
Vice takes its story from the sci-fi classic Westworld - in that the world it presents is made up of robots who are there so humans can live out their fantasies. But Vice is also a world of corruption - both inside and outside - with the "clients" on the inside literally getting away with murder and more (because, hey, robots aren't people and they have their memory wiped every night, so why not?) and the people outside beholden to the money Vice brings - even as the crime rate ramps up because said clients find it difficult to acclimate to the real world where rape and murder aren't forgotten so easily.

That is the premise, and it sounds like an interesting update to the now aged-looking Westworld, but Vice has issues. One is that the actors just don't seem that interested. Bruce Willis, who plays the owner/president of Vice, pretty much sleepwalks through his role - about as wooden as I've ever seen him. Thomas Jane - all greasy long-hair and snarling visage, tries to growl his way through his role as the lone cop trying to keep justice intact, but he's not much better. Ambyr Childers is the robot who gains her memory and isn't much more than a pretty face along the way. The impact is minimal at best from anyone.

The other issue is that despite being given such an interesting concept to work with - the film pretty much takes the laziest approach to presenting that story. The film wants to be dark and edgy - imagine a world where you could really get away with anything, but it spends almost no time on Vice itself - a sales pitch to start the movie, a few random encounters -and then it's mostly outside the walls and turns into a dull cat-and-mouse chase. It's a shame and a wasted opportunity in my opinion Even the big finale falls flat.

Vice could have been great but it takes too many shortcuts and not enough chances. Despite the R rating, it never feels like it pushes the boundaries. Is it worth your time? Depends on how big of a sci-fi fan you are - but it's hard to recommend this unless you really need a fix.