2.5/4

3/4

2.5/4

3/4

3.5/4

3/4

3/4

2.5/4

3/4

3.5/4

2.5/4

3/4

2.5/4

2/4

2/4

3/4

3.5/4

3/4

3/4

3.5/4

2.5/4

2.5/4

3.5/4

3/4

2.5/4

Next 25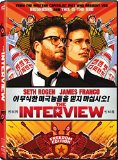 Interview, The (2014)
Hooray for Freedom! And Poop Jokes!
2.5/4 stars
Hey, remember that one time when a major studio was hacked and a bunch of information got out? Upcoming films were leaked, personal emails and data was leaked and then the group threatened to do something bad and the movie was pulled by all major theater chains and then Sony dropped all plans to release only to reconsider when a bunch of celebrities (and the President of the United States himself) essentially said "shame on you". Well, guess what? Now The Interview is widely available - some independent theaters got it, but most of the people who watched it (including me) saw it via VOD. So, what was all this fuss about - what got North Korea so riled up it brought a major company to its knees? Well, as it turns out, a bunch of dick and poop jokes are all it takes to get yourself hacked.

The Interview is not going to make my top comedy list, but neither does it fall completely flat. A lot of the humor is of the gross-out variety - stank dick, anal insertion, Seth Rogen naked (luckily NOT full frontal) - and, for some reason, James Franco's constantly referencing Lord of the Rings (not gross - but a strange choice - I know Franco is a real-life fan of the series, but, man, did this seem like an odd choice for comedy). Anyway, if you've seen films like Pineapple Express and This is the End - it's much along those same lines.

The plot revolves around a new entertainment host (Franco) and his long-time producer (Rogen) wanting to move on from fluff to something more serious (at least Rogen's character wants to). Lightning strikes when they learn reclusive North Korean "Supreme Leader" Kim Jong-un (played to perfection by Randall Park) is a huge fan of the TV show, Skylark Tonight. After setting up a meeting, one of the ministers of propaganda Sook (Diana Bang) sets up the interview with the condition that everything will be controlled by North Korea. Soon after this agreement the CIA comes calling with Agent Lacey (Lizzy Caplan) setting up a plan to "take out" the maniacal, manipulative dictator. Of course, the plan is almost immediately foiled - leading to some extended scenes of setting up yet another plan - which also don't exactly pan out - leading to a revelation, an unforgettable interview and the most awesome use of Katy Perry's "Firework" ever committed to the screen.

There are moments of hilarity - the opening interview with Eminem is priceless - one of the best set-ups in a long time. But the performances are just so-so. Franco is like a hyper version of himself - cranking everything up to 11 and chewing more scenery than DeNiro at his worst. Rogen plays the straight-man to Franco's craziness - but it's the same old role we've seen him play time and time again. Jokes get over-played - the Lord of the Rings references, the whole "honeypotting" ongoing joke and the reminding the "Supreme Leader" never poops - it's a tired formula that I don't ever see holding up well on repeat viewings.

That being said, there are bright spots. Park is an excellent Kim - he hits the manic highs and the evil lows just right. Plus, anyone willing to gain weight and style their hair after that guy deserves credit just for that alone. I also like Bang as the minister Sook - especially when she finally goes all badass and the supporting characters actually stand out for a film centered on the two main stars for the most part (and they provide some of the best lines).

Overall, The Interview is a standard Evan Goldberg/Seth Rogen production. If it wasn't for all the controversy surrounding it, it would have most likely came and went with little fanfare. So thank you, North Korea, if it wasn't for your meddling, I doubt half as many people would have watched this - if you wanted to stop this movie from being seen, you should have left well enough alone.