2.5/4

2.5/4

3.5/4

3/4

2.5/4

3/4

2/4

2.5/4

3.5/4

3/4

2/4

3/4

2/4

2.5/4

2/4

3/4

3/4

3.5/4

3/4

2/4

2/4

3/4

3.5/4

2.5/4

2/4

Next 25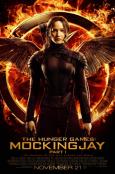 The Hunger Games: Mockingjay Part 1
You Say You Want a Revolution
3/4 stars
With this being part 1 of a two-part Mockingjay ending, and with everyone saying this is more of a "filler" than the supposed action-packed finale, my expectations were a bit tempered going in to the film. That being said, while it doesn't reach the strengths of Catching Fire, it also didn't feel like a needless entry. Thanks to some key performances, a few nuanced moments and some snazzy settings - Mockingjay Part 1 keeps the Hunger Games tradition alive and well, even if breaking it up still seems like a somewhat greedy approach.

We open pretty much where we left off - Katniss has been taken to District 13 where she recovers, her mother, sister and Gale are all there too. But this Katniss is a bit different than the "girl on fire" that Plutarch Heavensbee and President Alma Coin have come to expect. Much like fellow tribute Finnick Odair, she has broken down - not to mention the fact that Peeta's condition remains unknown. What is known is that Katniss has inspired other districts to finally begin rebelling - but this rumbling of a revolution could come to a halt unless they are given a symbol to rally around - Coin wants Katniss to become the "Mockingjay" the symbol the revolution needs to go on.

The entire movie pretty much revolves around Katniss struggling to embrace her role as this icon - complete with propaganda videos - while trying to come to grips with leaving Peeta (and fellow tributes Joanna and Annie) behind - it gets even more complicated when Peeta begins his own video - interviews with Caesar Flickerman begging the rebels to lay down their arms. He's branded a traitor - but Katniss will only help this budding revolution in exchange for his pardon, as she can't believe he would do that without being coerced in some way.

The movie benefits from its range of actors. The series continues to benefit from the casting of Jennifer Lawrence - she's the best yet, producing moments of both vulnerability and pure fire as Katniss. Liam Hemsworth is also given his meatiest part to play yet, as Gale takes a commanding role in the resistance, urging Katniss on. Donald Sutherland is oozes silken evil as President Snow while a now-sober Haymitch (Woody Harrelson) and a much more subdued Effie (Elizabeth Banks) give smaller, though no less effective, performances. In one of his final roles, Philip Seymour Hoffman still commands respect as he does his best to keep the revolution running, while Julianne Moore is a great addition as the stoic President Coin and a wheelchair-bound Beetee (Jeffrey Wright) empowers the rebellion with his gift of electronics.

I wish more time was devoted to the new crew Katniss is given for her propoganda videos - as it is Natalie Dormer (Sporting an interesting hairdo and tattoos) as director Credda and the likes of Evan Ross, Elden Henson and Wes Chatham are pretty much only given cursory introductions as the camera crew. Sam Claflin is also given little to work with as Finnick (going through much of the same pain as Katniss) and Josh Hutcherson is barely on screen - though his end-movie transformation is worth waiting for.

There isn't nearly as much action this time around - but it is made up for in more quiet moments - whether or not to shoot a deer, playing with the ornery cat, singing a simple song - these moments stand in stark contrast to the moments of rebellion - taking down a dam, hiding in the trees and a daring rescue attempt that leaves you on the edge of your seat. I thought the film did a good job of quieting things down when it needed to, yet still providing enough action to keep things interesting.

A lot of people have complained that the vast majoring of the film takes play in the war room - District 13 is underground, thus all the planning is done in a bunker for all intents and purposes. While I agree, it is quite talking for what is supposed to be an action-packed franchise, there is still plenty of great sets to be had. The bombed out District 12 is especially good - the reactions when uncovering the horror are especially good as well. We get a glimpse of some of the other districts as well - albeit brief (and mostly filled with violence) but it's nice to see some of the other places the Capitol relies on for their well being. This is also by and far the most bleak chapter yet - and that's saying a lot for a series where kids fight other kids - and it doesn't even end on a hopeful note. That being said - part 2 should up the action quotient, I just hope they manage to keep the heart involved too.

Splitting Mockingjay into two parts still seems like more of a cash grab maneuver to me, but I don't think it's going to hurt the bottom line one bit.