3/4

3.5/4

2.5/4

2.5/4

3.5/4

3/4

2.5/4

3/4

2/4

2.5/4

3.5/4

3/4

2/4

3/4

2/4

2.5/4

2/4

3/4

3/4

3.5/4

3/4

2/4

2/4

3/4

3.5/4

Next 25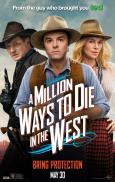 A Million Ways to Die in the West
A Million Ways to Die, a Few Ways to Laugh
2.5/4 stars
After the success of Ted, essentially Seth MacFarlane could choose any project he liked. The result is one of the rarest genre movies, the western comedy. In fact, if I were to ask the vast majority of people to name me a western comedy - other than this example, most would only come up with Blazing Saddles (Mel Brook's classic). That isn't to say there hasn't been other western comedies - just not successful ones. And I think its because the genre is just a tough sell.

What MacFarlane gives us, when it delivers, is a movie set in 1882, but with a mean streak of modern comedy. If you know MacFarlane's brand of humor, you should know what you're in for. He expounds upon all the things that are wrong with living in 1882 - rampant disease, the sudden (and oft life-ending) violence, the likewise violent wildlife, the racism, the health care (or lack thereof), the crushing despair and emptiness - in fact, for a comedy, the west sure was a hell of a depressing place to live, especially in backwater nowhere like "Old Stump". The humor is quite tongue-in-cheek, but actually closer to the truth than the "classic" westerns everyone knows and loves.

The fact of the matter is, for being billed as a western comedy, I found myself entertained, but can't say it delivered huge laughs for me. That slick humor MacFarlane is known for just didn't translate that well. Of course, I also didn't think Ted was as good as advertised, so maybe I'm just not into his brand of comedy. But the think he did get right was the casting. He has a great chemistry with Charlize Theron - who looks like she's having a great time. Giovanni Ribisi, playing the sweet as-can-be virgin, is a great pairing with the raunchy Sarah Silverman. And you couldn't ask for a better villain than the menacing, gravel-voiced Liam Neeson. But the show is really stolen by Neil Patrick Harris as the mustachioed, pun-delivering jerk of the Mustachery - he even gets his own song-and-dance mustache number. Even an extended (and disgusting) joke about him having diarrhea is given a bit of class by his delivery.

The other thing that works is the sheer amount of cameos that MacFarlance is able to cram in. The man has some great connections - some are easy to miss (Ryan Reynolds) while others, like Bill Maher, absolutely kill it. While some might see these as a bit of overkill - all of them are a lot of fun. Make sure to stay until the end for the best cameo of all - no spoilers here, but it is worth it.

The story could come right out of a regular old western - a meek man who would rather talk than shoot, loses his girlfriend, and his dignity - only to find his courage when a headstrong woman (and more than competent gunfighter) shows up in town and teaches him how to shoot and to stand up for himself. Only one problem - her current "boyfriend" happens to be one of the most dangerous men around - and when he learns the two are together, he isn't happy - leading to the ultimate showdown. There gags come quick and punchy, but most of the time elicited only a chuckle or two out of me.

In the end, the overall effort is appreciated. I love the fact MacFarlane is trying to do something different - he as assembled an excellent cast, he shot as some amazing locations and even the music and costumes are spot on. But when it comes down to it, I wanted more laughs and I just didn't get enough of them.