2.5/4

3/4

2.5/4

3/4

3.5/4

3/4

3/4

2.5/4

3/4

3.5/4

2.5/4

3/4

2.5/4

2/4

2/4

3/4

3.5/4

3/4

3/4

3.5/4

2.5/4

2.5/4

3.5/4

3/4

2.5/4

Next 25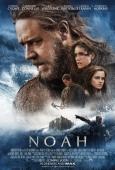 Noah (2014)
This Noah Is Epic, Not Traditional
3/4 stars
Darren Aronofsky, much like Wes Anderson, is a director who has his own style - and if also not one to compromise his vision. Noah has faced some backlash for straying from the Biblical story, but even amidst the criticism and studio meddling, Aronofsky never backed down and actually got a bit mad when it was suggested changes be made to appeal to a more Christian audience. But in a big way, I'm glad the film stuck to the original vision - it's not going to be an all-around crowd pleaser, but the visual are terrific and the story is still powerful.

All of Aronofsky's previous films have been dark - from Requiem for a Dream to The Wrestler to Black Swan - things are never bright and or cheerful. Noah is no exception. We open with some brief history before watching Noah's father get brutally murdered just before he can take on the mantle of his line - flash forward a number of years and the world is a ravaged wasteland where men will kill for a bit of meat. Noah is given a vision and seeks out his grandfather, Methuselah, for more guidance. Before reaching him he comes across a scene of slaughter at an abandoned mine and rescues a young girl, fleeing from the bandits to the land of The Watchers - giant stone guardians who were once angels, but when they fell, were turned from light to stone. They blame mankind for turning on them and nearly kill Noah and his family, save for one who believes he was sent by The Creator. Thus begins Noah's quest to build a grand ark to house the "Innocents" of the world (beasts, bugs and the like) while the men, who have failed their Creator, are to be wiped from the face of Earth.

As Noah, Russell Crowe brings the right gravitas - although often a bit too dour - you have to remember, he is literally planning on dooming humanity (including, he thinks, his own family) in order to set things right in the eyes of God. That's a mighty weight to carry - and his wife (Jennifer Connelly) and children Shem (Douglas Booth), Ham (Logan Lerman) and JaphethLeo McHugh Carroll) along with the girl he saved, Ila (Emma Watson) can do nothing to dissuade him. He thinks the line of man will end with his family as Ila is barren due to the wounds she suffered during the attack long ago. She carries love for Shem, but he is certain they will never have children. As for his other two sons, though Ham is certain wives will be provided for them before the ark is launched, his father knows it will never come to pass.

But of course, what is a film without conflict, and this is presented in the form of Tubal-cain, the self-proclaimed king of the land - decended from Cain (who slew Abel) while Noah is the last descendent from Seth. Tubal-cain and his many followers are the ones who destroyed the land with their mining and hunting - and the film takes little time after he appears to show their nature of slaughter, slavery and evil - Noah knows there is no saving man. In order to build the ark, and protect it, The Watchers have helped him build for 10 long years - and this element (taken from Jewish rather than Christian theology) is one of many that may drive fundamentalists mad. I certainly wasn't expecting anything like that to happen - but it makes things a lot more interesting.

Things leading up to the great flood are pretty intense - but as soon as the rains come, the movie gets a big bogged down. Before leaving, Ila is given a gift from Methuselah - and takes advantage of it immediately - as her wound is healed and she becomes pregnant. This, of course, kind of throws a wrench in Noah's plan to have mankind die out with his family. It also leads to some overwrought drama in my opinion. Meanwhile, Tubal-cain has managed to sneak aboard the ship and tries to convince Ham to help him and strike down his father for leaving behind a girl he tried to rescue. But while most of the time on the ship is a bit boring, there is one amazing scene of Noah telling his favorite story (the story of creation) that is one of the most visually stunning scenes in the film - and probably my favorite scene in the entire movie.

Besides Crowe, the rest of the cast performs well - especially Watson and Lerman (two young, talented actors who give me faith for the future of Hollywood). Anthony Hopkins is a bit mischievous as the aged Methuselah while Ray Winstone comes across as quite menacing as Tubal-cain. All in all - acting wise, I don't think you could have asked for much better. The effects are top notch and the musical score works quite well with the setting. At nearly two hours and twenty minutes, the film does drag a bit (especially the second half) but it was still a nice trip.

Those hoping for a traditional Biblical tale will certainly be disappointed. However, I would much rather enjoy a director's vision rather than a straight-up adaptation - and when that vision comes from Aronofsky, it's hard to be disappointed.