2.5/4

3/4

2.5/4

3/4

3.5/4

3/4

3/4

2.5/4

3/4

3.5/4

2.5/4

3/4

2.5/4

2/4

2/4

3/4

3.5/4

3/4

3/4

3.5/4

2.5/4

2.5/4

3.5/4

3/4

2.5/4

Next 25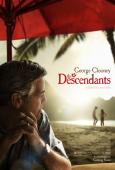 Descendants, The (2011)
Almost Paradise
3.5/4 stars
Alexander Payne is a great director - and not just because he happens to be a native Nebraskan. He manages two feats I wouldn't have though possible: he makes George Clooney seem like a regular guy and he gives Matthew Lillard a dramatic role that actually works. Based on those two things alone, The Descendants is worth a watch.

What I like is that the story doesn't feel forced. Clooney plays a father and husband - his wife is in a coma following a boating accident and he is having trouble with how to deal with his two daughters (played with perfection by Shailene Woodley and Amara Miller). On top of this, his extended family is putting together a deal to sell a pristine parcel of Hawaiian land that has been in the family for generations in a multimillion dollar deal.

Then things really hit the fan: doctors tell him his wife will not come out of her coma, and her DNR clause means he will have to let her go for good and, on top of that, he learns she was having an affair - and, as if that isn't enough to deal with - the man she was seeing ties in directly to the land deal. There's a lot going on - but it never feels like too much and it never gets outlandish. A lot of credit has to be given for the chemistry between Clooney, Woodley and Miller who work well together. A superb supporting cast - Lillard, a gruff Robert Forster, the eternally laid-back Beau Bridges and a hilarious turn from Nick Krause - who provides levity in an otherwise fully dramatic film - all make the film work.

Hawaii itself plays an important role - as the beauty of the surroundings is a nice counterpoint to the somewhat depressing reality of the characters. Besides the look, the music helps set the scene as well. The location deserves just as much credit as the actors and director for making things work.

In the end, I consider this another outstanding film from Payne. In my book, it certainly deserves its place as an Oscar nominee.