3/4

3.5/4

2.5/4

2.5/4

3.5/4

3/4

2.5/4

3/4

2/4

2.5/4

3.5/4

3/4

2/4

3/4

2/4

2.5/4

2/4

3/4

3/4

3.5/4

3/4

2/4

2/4

3/4

3.5/4

Next 25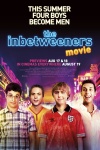 The Inbetweeners Movie
British Pie
2.5/4 stars
I admit I was going into this film without much prior knowledge. I knew it was based on a popular British TV show (that I had never watched) and also knew it broke the record in the UK for the biggest opening of a comedy film. I knew it was a movie in the vein of American Pie - somewhat vulgar, somewhat of a coming-of-age film dealing with relationships and the like. Other than that, I really didn't know what to expect and in the end, while not perfect, this is film that succeeds thanks to the characters, even if this story has been told before.

Our four heroes are the too-smart-for-his-own-good Will McKenzie, the sex-obsessed Jay Cartwright, the recently dumped Simon Cooper and the perpetually grinning nice guy Neil Sutherland. Simon Bird as Will seems to be the main focus, though all the actors get their screen time. He's the most talkative (even if he always doesn't think before he talks) - and has never had sex. So when Jay's granddad passes away and leaves him a nice inheritance, they boys decide to take a trip to Greece - for spring break-type holiday. As played by James Buckley, Jay thinks he knows all about sex and women, but he's the most primitive member of the group - and the most outspoken (if often degrading) of them all.

Meanwhile Simon (played by Joe Thomas) can only think of his ex-girlfriend - think and talk about her - even when there are other women around. Despite getting caught in a game where he gets hit in the junk every time he says her name, he just can't help himself and mopes around like a lost puppy. On the other end of the spectrum Neil (Blake Harrison) has apparently also broken up with his girl, but rather than dwell on things, he tries to dry hump and fingerbang every girl in sight - which, in this unfortunate case, often happens to be quite older women. Of course it turns out Simon's ex is there as well - leading to more desperate attempts to get back with her, at the expense of pretty much anything else.

The entire film follows the misadventures of the guys who, despite being sucked into a mostly empty bar their first night in, meet four women. Of course, none of these connections are apparent... at least not at first. But as fate would have, the boys keep meeting up with these same four girls and whether it's getting depantsed at a hotel swimming pool (and nearly drowning the young boy responsible) or simply drinking copious amounts of alcohol (and really paying for it the next day) everything leads to one road: the boat party.

Although I'm sure I would have got a lot more out of this film had I followed the original series, I still think the main actors really shine in their respective parts. British humor can also be an acquired taste and while there are few laugh-out-loud moments, I believe the humor is much more restrained than what one would expect from this type of movie. Unlike American movies, this film seemed to revel in way too much male nudity while the female variety was sadly lacking. That being said - it's the characters, not necessarily the story, that drive things. And in that, I think it was a good bit of fun sharing time with this quartet of misguided yet good-natured lads.