3/4

3.5/4

3/4

3/4

3.5/4

2.5/4

2.5/4

3.5/4

3/4

2.5/4

3/4

2/4

2.5/4

3.5/4

3/4

2/4

3/4

2/4

2.5/4

2/4

3/4

3/4

3.5/4

3/4

2/4

Next 25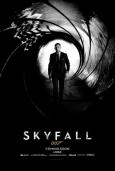 Skyfall
Skyfall - What Goes Up, Also Brings It Down
3/4 stars
After an unusually long hiatus, Daniel Craig returns as everyone's favorite secret agent - James Bond. After seeing the dark tone of Casino Royale I admit I was excited, but the disappointment in Quantum of Solace left me bitter. Does Skyfall redeem the 007 series? It does, but I don't think it quite lived up to my expectations.

The opening, in typical Bond fashion - is action packed. A chase along the streets (and roofs) of The Grand Bazaar in Istanbul as Bond, along with a female agent (Naomie Harris), are trying to retrieve a hard drive that has been stolen. M (Judi Dench, reprising her role) is adamant at getting this back at all costs - it has the name of nearly every British agent, including those undercover, and would be a huge blow to MI6. The chase ends on top of a train - M makes the call to take a tricky shot and... Bond dies? Cue opening theme by Adele! (and a pretty good one at that - not that there's been much competition lately).

Oh, but you didn't think he'd go down that easy, did you? After taking some time off, Bond returns to England after the MI6 headquarters are targeted and partly blown up. It seems someone is targeting the intelligence group - M in particular - and is having quite a bit of fun.

In true Bond fashion, our agent goes globe trotting - from a gambling parlor in Macau, an eerily abandoned island or the foggy moors of Scotland the scenery is still top notch. I also appreciate finally having Q (a fresh-faced Ben Whishaw) finally show up, even if he is a big of an arrogant computer nerd.

The villain this time around, Silva, is played by Javier Bardem. I was hoping for something like his no-nonsense character from No Country for Old Men, but instead we get... a charming, probably bi-sexual man with super-technical elite hacking skills. Also, like the best Bond villains, he has a hidden deformity - and also a major grudge - seems before Bond came along he was M's favorite spy - until he became too much of a liability and was left behind.

There are plenty of good action scenes - the end, where our heroes are holed up in Bond's Scottish home - with just a caretaker (a great little role for Albert Finney) is full of explosions, bullets, traps and near-death at every turn. That's the spirit I like to see.

A lot is made about how human Bond is in this movie - his injury from the beginning plagues him throughout the film, and his psyche is not much better. Yet he has no qualms about letting a girl he met (and slept with - a high class prostitute played by Bérénice Marlohe) get executed. Bond may be human, but his humanity is still a bit lacking.

The problem with Skyfall is that while all the pieces are there, they just don't fit together quite right. It feels rushed at points and lagging at others. For every great line of dialogue or action scene with punch, there's another that slows things down too much and suddenly takes you out of the moment. It's a good film, but not a great one.

However, the film does end on a high note - full of a lot of emotion and things are set up quite nicely for the next two-three films. I just hope we get back to that grittier, darker Bond from Casino Royale (still the best film featuring Craig).