2.5/4

2/4

3/4

3/4

2.5/4

2/4

2.5/4

3/4

2.5/4

2.5/4

3.5/4

3/4

2/4

3/4

3/4

1.5/4

1.5/4

3/4

2/4

3/4

2.5/4

2.5/4

3/4

3/4

2/4

Next 25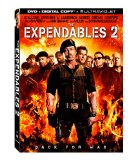 The Expendables 2
One-Liners, Bullets, Death and... Fun
2/4 stars
I'll say this, if you're in the mood for action, I can't think of a better movie that's come out in a long time that will fulfill your needs as well as The Expendables 2. Even more than the original, this film literally hemorrhages bullets, explosions, chases and smack downs from the moment it begins to the closing scenes. Be warned, however, all this action comes at a price: you won't find a thrilling narrative or any deep character development. This is movie you go along for the ride and enjoy it for what it is - nothing more.

The great part about this series is seeing all these aging action stars just have a helluva good time. Sylvester Stallone is back, along with his crew and he's brought along some old friends in more than cameos this time: Arnold Schwarzenegger, Bruce Willis, Jean-Claude Van Damme and Chuck Norris all get to throw their weight around. However, like all ensemble casts, not enough screen time is given to any one person to make much of an impact other than "Wow, he's still got it!" However, whoever the genius was who decided that Norris' theme should be Ennio Morricone's "Good the Bad and The Ugly theme"... perfect. That got the biggest reaction from the crowd I was watching with.

But it's not just the old guys who get to have a good time. Liam Hemsworth solidifies his status as a "man's man" by joining the crowd and Chinese star Nan Yu manages to hold her own against the big boys by playing the movie's sole kick-ass female. Yet despite some attempt as getting to know there characters: Hemsworth has a girlfriend he's trying to make a life with, Dolph Lundgren's Gunner Jensen is revealed to be a former MIT chemical engineer (actually, it's true - Lundgren himself did recieve a (Fulbright Scholarship to MIT in real life - who would have thought?) and Jason Statham is given a good ribbing for continuing to be whipped by his girl (cameo from Charima Carpenter). Yet for every glimpse we get into these characters, we mostly get a lot of shooting, knife-play and things blowing up.

The other thing the movie has going for it: it doesn't take itself that seriously. There are abundant one-liners to be had from almost every character. Many hearken back to their "classic" films - Schwarzenegger says "I'm back." like he means it. And plenty more rib on the age: "That plane belongs in a museum." "Yeah, well so do we." and the like. No one seems to care that they're shooting hundreds of people - they're just kicking back like it's a freakin' summer camp. I imagine between takes these guys are just joking, telling stories and, possibly, taking a few shots. The whole films just feels like everyone is treating it not like a movie, but a reunion of sorts.

What this mean, is everything is over-the-top, sometimes corny, a lot of fun but also a bit of fluff and nothing. Once again, if you want action, this is the film for you. It's great to watch all these guys together, but it's just not deep enough to go beyond a mere action movie, despite the talent involved. Yet despite my misgivings I have a feeling that if Stallone can convince his cadre to come back, The Expendables 3 is not out of the question.