2.5/4

2/4

3/4

3/4

2.5/4

2/4

2.5/4

3/4

2.5/4

2.5/4

3.5/4

3/4

2/4

3/4

3/4

1.5/4

1.5/4

3/4

2/4

3/4

2.5/4

2.5/4

3/4

3/4

2/4

Next 25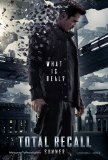 Total Recall (2012)
Action-Packed Remake Falls Short of Original
2.5/4 stars
As far as remakes (or reboots go - depending on who you ask) Total Recall manages to earn extra points simply by actually being different from the original film. There are still issues in the film, but I appreciate the fact they took this in a somewhat different direction while still throwing in some nice homages to the original movie.

As we open are film we are introduced to an Earth that has been devastated by chemical warfare: America? Gone, in fact all of North and South America are out, as are Asia, Africa and most of Europe. There are two safe zones left: the island of Britain and some slight surrounding areas (known as the United Federation of Britain - mostly white) and Australia (known as The Colony - a melting pot of cultures). There is great irony in the casting as the head of UFB is played by an American (Bryan Cranston) while the leader of the "resistance" in The Colony is played by British actor Bill Nighy.

Anyway, these two divergent areas are connected by a massive elevator-type transportation device known as "The Fall", complete with a nifty zero-gravity period as it travels through the planet core to reach its destination. Best not to think too hard of the bad science behind this mode of travel. Our main character, Douglas Quaid (Colin Ferrell) is a typical factory worker - he assembles synthetic humans, which act as a police force/army for the UFB. Yet he is plagued by dreams - one in which he is sure he is doing something important.

His incredibly attractive wife (Kate Beckinsale, in top form), assures him this will pass. But that feeling stays, and after being passed over for a promotion he decides to try Rekall - a place where memories are implanted - no matter the desire. Although his friend/co-worker (Bokeem Woodbine) tries to sway him away, warning of the potential for coming out lobotomized, he goes in anyway. Unsurprisingly, his desire to be a secret agent working for the resistance fails, because the Rekall specialist (a short but fun turn from John Cho) informs him he's already working for them. That's when things get interesting. Quaid becomes a one-man army, taking down an entire squadron. Returning home, his "wife" proceeds to beat the stuffing out of him and tries her hardest to kill him.

He escapes and is soon on a merry chase to figure out who he actually is while avoiding his not-wife Lori (herself an special agent). Another woman enters the picture to help him (Jessica Biel), the same woman who appears in his dreams. Although he has no memories, he knows she is important to him. She tells him the Resistance is being framed for the many terrorist attacks by none other than the UFB president, with his master plan to invade The Colony, wipe it out and rebuild anew.

Here's the thing about Total Recall - there's a lot of action. Shooting, mag car chases, Biel and Beckinsale in one of the greatest girl-on-girl fights in recent memory, jumping from elevators, fighting plenty of synthetic robots and even a Cranston smackdown (I don't watch Breaking Bad, so in my mind Cranston is still the dad from Malcolm in the Middle and seeing him fight is weird, yet satisfying). If you like action, this movie fills the bill.

The other thing I really liked about this movie is the random references to the original film. Ferrell's line "I'd love to go to Mars" comes out of nowhere and it excellently placed. The always-welcome three-breasted woman makes an appearance and, my favorite, the large red-haired lady (if you remember the original, the one who split apart and had Arnold Schwarzenegger inside) has a cameo (though, sadly, it's not the same actress, who I learned via IMDB died in 2008 - but the replacement they found is remarkably similar). Some might groan at these asides, but I found them nicely placed.

The main problem with this version of Total Recall is there is not much depth to these characters. It's all action, all the time, which means there's not too much time to get to know any of these people who are shooting and punching each other most of the film. While Farrell gets the most attentions, the fact he has amnesia means that the most we learn about him is from recordings (by his "old" self) and references from other characters. Both Beckinsale and Biel seem to be there more for eye-candy than for emotional connection.

The visuals are top-notch - from those mag-cars and trains to a some most interesting architectural structures. Even the synth mechs look pretty good. We only get a short glimpse to the contaminated world (a hazy green-tinged toxic wasteland) but we never learn any history behind this devastating development. Obviously this Total Recall never reaches Mars and has hardly any mutants at all to speak of (though there are plenty of interesting glowing tattoos).

What Total Recall comes down to is an action film with sci-fi elements. For me, the film falls short of the 1990 original, but I don't think it's a bad remake, in fact, I would say it's one of the better ones to come out in recent years. If it focused a bit more on its characters instead of its action sequences, it may have been able to match the original. As it stands, if you're in the mood for a lot of action, this is the film for you and it's a pretty spot-on summer movie.