2.5/4

2/4

3/4

3/4

2.5/4

2/4

2.5/4

3/4

2.5/4

2.5/4

3.5/4

3/4

2/4

3/4

3/4

1.5/4

1.5/4

3/4

2/4

3/4

2.5/4

2.5/4

3/4

3/4

2/4

Next 25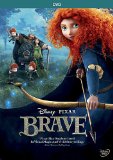 Brave
You Gotta Have Fate
3/4 stars
Pixar is one of the few studios I have been able to count on to deliver consistent and quality entertainment. Yes, I was also a bit letdown by Cars 2 (as I found the original Cars to be less than stellar already) but as soon as I heard about Brave, I was once again excited.

The tale of a feisty princess with a main of unruly red curls who would much rather spend the day riding, shooting her bow and climbing mountains than learning about decorum, history and, well, being a princess. Her mother is often exasperated by her daughters behavior while the burly king is more accommodating. But eventually the day comes when Princess Merida is faced with a choice - three suitors from three tribes that will strengthen their kingdom - but, of course, she is against the entire idea and instead seeks a way to change her fate.

The heart of the movie is really the relationship between Merida and her mother. There is humor (much of it coming from her three hellion little brothers and the trio of suitors: a pretty boy, an oaf and a dim bulb), there is action but overall, there is a lot of heart. The story isn't quite as deep as other Pixar films (I pretty much could predict where the story was going at all times) but the animation is simply brilliant - from the countryside to the fog-shrouded forest and the water - it's the quality I've come to expect and it doesn't disappoint.

Likewise, the music is fantastic. The opening song should be up for an award - a Scottish piece that is both wonderful and haunting. Since this is a period film, the rest of the music follows suit - from bagpipes and more, it always fit with the setting and was never distracting.

The vocal cast was also a treat - Kelly Macdonald was a great choice for Merida. Her accent is spot-on and puts the right mix of spunk and emotion behind her words. Likewise the king and queen (Billy Connolly and Emma Thompson) are also fine additions. Connolly is all bravado and hearty laughter while Thompson is the calm, controlled regal queen. Julie Walters has a shorter, but no less memorable, part at the witch who changes fate (and apparently really likes carving bears). The three other lords are a played by a trio of well-known names: Robbie Coltrane, Craig Ferguson and Kevin McKidd and each has their own distinct look and personality - one looks like he walked off the set of Braveheart dressed in blue paint, one looks like a gruff troll doll and the other is a spitting image of classic Scandinavian stout, blond-haired and his son is completely intelligible with his accent.

If there was a disappointment is I felt they played things too safe. I pretty much knew exactly how things were going to end up as they went along - the nature of the "change in fate" was a bit of a surprise (but knowing the original title was The Bear and the Bow might help things) but overall, things were laid out in a pretty linear manner and even with the great talents involved, that was my only big of letdown.

Those worried that Pixar was taking too big of a Disney stance on this "princess" film shouldn't fret. This is classic Pixar, and while I may not quite put it in the same category as Up or The Incredibles, it is still an excellent addition to the Pixar family and a worthy one at that. While I can see the aim is mostly to younger girls, the boys shouldn't be too disappointed at this one either.