2.5/4

2/4

3/4

3/4

2.5/4

2/4

2.5/4

3/4

2.5/4

2.5/4

3.5/4

3/4

2/4

3/4

3/4

1.5/4

1.5/4

3/4

2/4

3/4

2.5/4

2.5/4

3/4

3/4

2/4

Next 25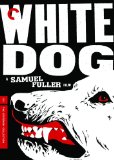 White Dog
Buried No Longer
3/4 stars
Samuel Fuller is a completely overlooked director and I'm just glad Criterion has provided the opportunity to explore his films. White Dog is story with racial implications: a young actress (Christy McNichol) adopts a dog she accidentally hit only to find out it has been trained to attack anyone who is black. She takes the white German Shepherd to an animal trainer to see if his condition can be "fixed" - Paul Winfield plays the trainer bound and determined to erase the hatred from the animal - even if it means putting his own safety on the line.

The most powerful scene in the entire movie for me was when the owner of the "white dog" shows up to reclaim his pet. He looks just like a kindly old grandpa, even has his grandkids in tow, but soon the facade falls away and the man shows his true bigoted colors and the dialogue between him and McNichol is just amazing.

A total of five different dogs were used in the film, and props has to be given to the trainers - from inquisitive looks to snarling attacks - it is some of the best animal direction I have seen in any film. In the end, we find out that no matter how good intentions are - sometimes things just aren't meant to be. The ending is a bit of a shocker but not altogether surprising.

For whatever reason the studio buried this movie when it was released, as their original idea was to market this as a horror film ("Jaws with paws") and the racial undertones caused a big reaction from the NAACP who threatened to boycott Paramount, causing the studio to literally bury the film for 25 years. It's too bad Fuller's vision couldn't be fully appreciated at the time, but I encourage anyone who has a chance to watch this - it does show some age, but the message is still loud and clear.