3/4

3/4

2.5/4

2/4

2.5/4

3/4

2.5/4

2.5/4

3.5/4

3/4

2/4

3/4

3/4

1.5/4

1.5/4

3/4

2/4

3/4

2.5/4

2.5/4

3/4

3/4

2/4

2.5/4

1.5/4

Next 25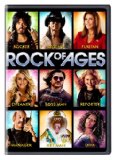 Rock of Ages
Let's Get Rocked
3/4 stars
Here's all you need to know about Rock of Ages: 90% music, 9% dialogue and 1% Alec Baldwin and Russell Brand staring deeply into each others eyes. Alright - that may be a bit of a stretch, but, as the posters exclaim, if you're looking for nothing but a good time, you won't leave disappointed.

When a movie opens with a main character sitting on a bus singing "Sister Christian" and then the entire bus (including the driver and precocious little girl sitting in the seat in front of her) join in - well, you know this is going to be a lot of fun. The story is slightly cliche - small-town girl looking to make it big, bar-back singer looking to have his band make a mark (A "Jukebox Hero" if you will) - and, wouldn't you know it - a love connection forms between the two.

Even if this is a story you've seen before, chances are you haven't heard it this way. The soundtrack, for me, was a highlight - from the improbable, hilarious duet between Brand and Baldwin (REO Speedwagon's "Can't Fight This Feeling" - also shoo-in for Best Kiss at the 2013 MTV Movie Awards) to the bombastic Bon Jovi's "Wanted Dead or Alive" by Tom Cruise - the music makes the film, and you can't go longer than 10 minutes without hearing a power ballad or rock staple from the 80s. Yes, you can tell the songs have been recorded, but it fits the style of the movie.

This is world in which even the seediest aspects of L.A. (like a strip club) seem a little too nice and very, very shiny. This is not reality - it's spectacle - and yes, call it a bit corny, call it a bit cheesy, but even if it's a bit over-the-top - it's pure entertainment and I found it a whole lot of fun. And the cherry on top has to be Cruise.

I can't say I've been the biggest Cruise fan - I enjoy mostly his early work like Risky Business, Top Gun and Rain Man. When I first saw the trailer for Rock of Ages I rolled my eyes and thought it looked like the worst idea ever. Yet somehow, Cruise just oozes his rock god status as Stacee Jaxx on screen. I mean, when he's first introduced, he climbs out from a pile of women, devil-face codpiece front and center, spouts some cryptic remarks only rock stars would be able to get away with and passes out in a pool. And it only gets better from there: whether it's traveling with a personal baboon named "Heyman", making random women pass out from his presence or seducing Rolling Stone reporters - Cruise is a mix of Axel Rose and Jim Morrison and he nails it. And Arsenal is the perfect 80s band name.

While Cruise is certainly the standout, he has good company. Paul Giamatti is great as the slimy agent (and he even gets to sing a few bars!), Malin Akerman is the aforementioned Stones reporter who writes a scathing article but can't help be entranced by the legend - complete with a somewhat tongue-in-cheek (and tongue-in-ear - amongst other places) duet, Catherine Zeta-Jones is the crusading wife of Bryan Cranston (a closest S&M fan) and she gets her kicks out by trying to shut down the Bourbon Room (a veiled reference to the Whiskey a Go-Go) run by old-school rocker Dennis Dupree (Baldwin) and colorful every-man Lonny (Brand).

While I have nothing against either Julianne Hough or Diego Boneta - the supporting cast ends up shining more than the leads. You can tell they're having fun, but the chemistry between them is only so-so. Also, for some reason Mary J. Blige (who plays the manager of the strip club where Hough eventually finds herself) shows up randomly to sing and is just plain awkward at times. I also have major issues with Journey's "Don't Stop Believing" being crowed, essentially, the most amazing rock song ever. Look - it's a great song, but it's not going to move mountains.

The only other issue I really have is that the production feels manufactured. What it ultimately reminded me of was a really high-budget episode of Glee with really good guest stars. To me, that's no necessarily a bad thing - but a lot of people may be rubbed the wrong way by the too-slick production that gives off a bit of that "fake" vibe. As I said, this is not a film that goes for reality - you have to have fun with it.

I'm sure a lot of guys will be dragged to this, as the film seems to be aimed at a mostly female audience. However, as someone who's not ashamed to admit already having about 80% of the songs on his iPod - it was a lot of fun. No, it won't join the ranks of the classic musicals of old, but it does provide over two hours of solid entertainment - not too long, in my books - and characters you won't soon forget. Overall, I'm glad I managed to see this early and for anyone who wants a rockin' good time - this is far from the same old, same old and it don't get better than this.