2.5/4

2/4

3/4

3/4

2.5/4

2/4

2.5/4

3/4

2.5/4

2.5/4

3.5/4

3/4

2/4

3/4

3/4

1.5/4

1.5/4

3/4

2/4

3/4

2.5/4

2.5/4

3/4

3/4

2/4

Next 25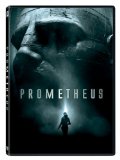 Prometheus (2012)
Prometheus Teases Bigger Things to Come
3/4 stars
Ridley Scott returns to intelligent, engrossing sci-fi with Prometheus. However, ultimately the film turns out to be a set-up for something much larger - and int the end, it the end that's what keeps the film from being truly great.

Visually, the film is stunning, from the opening scene of an alien being disintegrating to the closing scene that does its best to tie it into Scott's original Alien - your eyes will be in for a treat throughout the film. Taking place in the 2090s, the film is far enough in the future to seem plausible while close enough to our own time that it doesn't seem unrealistic. It seems a group of archeologists have discovered a series of cave paintings across different cultures spanning centuries that all seem to point to the same remote star system. Luckily for them, Weyland Industries happens to have a trillion dollars just lying about to fund their expedition.

After a cryogenic nearly 3-year journey, our group is waken up by David - an android - played to perfection by Michael Fassbender. Somehow taking on the role of being with no morals, no emotion and no "soul" as the movie puts it - is quite a challenge. But Fassbender manages to somehow instill emotion into his role, despite playing what amounts to a robot.

The rest of the cast is also quite impressive. Noomi Rapace is 1/2 of our scientist duo, Elizabeth Shaw, and gladly takes over the tough-as-nails female role that Sigourney Weaver started with Alien - albeit reluctantly. Charlize Theron is also great as the icy Meredith Vickers - representative of Weyland Industries. She's always skulking about and this role is a great counter-point to her over-the-top performance in Snow White and the Huntsman. Idris Elba provide some comic relief as the pilot - but isn't afraid to get down to business when need be. Logan Marshall-Green makes up the other scientist half as a rather rash, free-wheeling kind of guy as opposed to Rapace, who is much more analytical. Guy Pearce, credit to the makeup department, is the wrinkled Peter Weyland - the guy who put up a trillion so they could do their thing.

Even the supporting cast makes a good impression. While obviously some characters are given more time to develop than others, I think that each death that occurred carried some emotional response. I just hope you're not the kind of person who gets too attached to characters. Everyone is well-rounded enough and given this type of film, that's about all you can ask for.

The main problem is that the story, while providing some interesting theories on mankind, religion and the implication that discovering a race that may have, well, created us - doesn't really go anywhere. When we finally get the chance to get some answers, essentially all we learn is that there is a powerful, advanced alien civilization out there, and they really, really hate us for some reason. And that's essentially what the entire movie boils down to - a prelude for something much bigger that (hopefully) pays off in the future.

If you're a fan of sci-fi, or Scott's earlier efforts, this is a film that you should still watch. Despite spinning its wheels for the most part, there are enough compelling characters to still make this worthwhile and give a little more insight into the grand worlds that Scott has in store.