2.5/4

2/4

3/4

3/4

2.5/4

2/4

2.5/4

3/4

2.5/4

2.5/4

3.5/4

3/4

2/4

3/4

3/4

1.5/4

1.5/4

3/4

2/4

3/4

2.5/4

2.5/4

3/4

3/4

2/4

Next 25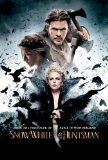 Snow White and the Huntsman
Snow White Remade to Decent Effect
2.5/4 stars
I'm sure most people are aware of the Snow White story - evil queen, seven dwarves, magic mirror, poison apple, love conquers all - happily ever after. Snow White and the Huntsman has all the basic elements, but puts a decidedly more action-oriented spin on things.

I was very wary about the casting - I have never been a big Kristen Stewart fan and Chris Hemsworth is still a relatively unknown entity when it comes to leading-man status. Yet, despite my trepidation, the film managed to turn out much better than I would have expected. That's not to say I was completely blown away by the whole thing, but I didn't feel I wasted my money in watching it either.

The film opens with a widowed king taking on a phantom army of black crystalline enemies only to rescue a supposedly captive beauty (Charlize Theron). Of course, it turns out the whole thing is ruse and newly crowned Queen Revenna quickly kills the king and seizes power with the help of uber-creepy brother, (a page-boy haircut styled Sam Spruell) and a real army. Most people are killed, with our titular princess being locked up in a tower.

Fast forward some years and the kingdom is dead or dying - people are without hope and the queen, in order to keep her youth, sucks the souls straight out of pretty, young girls. Then she is informed by her golden-man/mirror that soon she will no longer be the fairest of them all, as Snow White has finally come of age. Then she is told all she has to do to achieve immortality is eat the girl's heart - no big deal. Throughout the film, Theron is in full-on queen bitch mode - she screams and looks really angry throughout the entire film. Not a long of range here, but boy, is it sure fun to watch.

Of course, Snow White escapes to the Dark Woods and, apparently, it's not a happening place, so in order to catch her the queen enlists the aid of a man who knows the area - our Huntsman. Hemsworth gets to swing a mighty fine axe and kind of does the whole hero / not-quite-hero balancing act pretty well, though his range is still pretty limited. Still, he has the look of an action star, and when you're fighting off a bunch of mercenaries and such, that helps a bit.

The real fun characters in this movie belong to our collection of dwarves. While some people may scoff at the way the create the effects, I thought it worked out rather well. Ian McShane, Nick Frost, Bob Hoskins, Ray Winstone, Eddie Marsan, Toby Jones, Johnny Harris and Brian Gleeson all play their parts with equal mix of comedy, drama and even heart. They're not big parts - some amount to no more than glorified cameos - but I loved every moment they were on screen.

Also, Stewart managed to turn in a decent performance as well. Certainly it was way better than what I remember of her from the Twilight series. I'm not saying she'll be up for best actress this year, but she actually had some fire going - and while her blank stare showed up from time to time - it wasn't as noticeable and she actually turned in a pretty good role.

Other than the characters, the story, effects and music are all good, if not exactly awe-inspiring. However, things move quite quick and smooth - with no real dead spots to speak of. It's a tight story with the right mix of action and reflection, and while I wish some characters were explored a bit more, in the end, it managed to be entertaining without feeling too much like just another reboot.