3/4

2.5/4

2/4

2.5/4

3/4

2.5/4

2.5/4

3.5/4

3/4

2/4

3/4

3/4

1.5/4

1.5/4

3/4

2/4

3/4

2.5/4

2.5/4

3/4

3/4

2/4

2.5/4

1.5/4

2/4

Next 25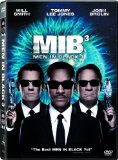 Men in Black III
A Decent Blast from (and to) the Past
2.5/4 stars
The original Men in Black was a rather fun look into a secret organization that monitors the vast alien activity on earth (mostly in New York) - it was a new, comedic twist on sci fi. The second entry was a rather wasted affair - deflating all the fun of the original. Ten years later, the third entry comes along, and falls right in the middle of the two.

Men in Black III still retains the humor of the original - Will Smith still has his one-liners and stone-faced Tommy Lee Jones still plays the straight man with stoic grace - and you get a bit of alien humor - a Chinese restaurant that caters to specific clientele and with delicacies to match. And the blink-and-you'll-miss them "celebrity" alien cameos on the big screen board (Lady Gaga, Tim Burton and Justin Bieber made the list and I'm pretty sure I saw Yao Ming and David Beckham up there too). Plus Bill Hader's turn as Andy Warhol is a hoot and half.

Yet the comedy actually takes a backseat to a more compelling story this time around. After a particularly nasty alien named Boris the Animal (Jemaine Clement - with a very deep, scary voice) escapes from his lunar prison (built specifically to house him, it seems), he has just one plan in mind - rewrite history by killing the agent who shot off his arm and allowing his now-extinct alien race to ravage Earth.

To do so, he must travel back in time and take out our beloved Agent K (Jones) before he can shoot him and install the Arcnet protection system around the planet. And, wouldn't you know, he succeeds as Agent J (Smith) arrives at work in the morning only to find out he has a new partner (a cameo from Will Arnett) and that K has been dead for 40 years - also, he's really craving chocolate milk, which new director Agent O (Emma Thompson) realizes is a sign of a temporal break. So Smith also goes back in time (just as the planet is being destroyed) and finds himself in 1969, with one day to track down young Boris and kill him, thereby preventing old Boris from leaping back and killing K - whew! Time travel is exhausting.

I was hoping for a bit more political/social commentary - but other than one scene of Smith being pulled over, and a few glances at papers that mention Vietnam and such - there is very little of that going on. Too bad - it would have made for some excellent material. Although J has been told to avoid K at all costs, wouldn't you know it, he winds up at MIB HQ with a young K (Josh Brolin) right in front of him. Brolin is truly the bright, shining star of the film. His dead-on take of Tommy Lee Jones is uncanny and spot-on perfect. You would think the two were at least related, if not the same person.

Smith and Brolin team up with a 5th-dimensional being named Griffin (Michael Stuhlbarg) who can see all events simultaneously - so he knows what is going to happen, but things are ever-changing, so he isn't quite sure which future is the correct future. This makes for some great, random encounters regarding sandwiches, antacids, the Miracle Mets and other antics best left to view yourself.

Eventually all our heroes wind up at Cape Canaveral on the eve of the first U.S. lunar mission where there, of course, is an epic showdown, along with some pretty significant revelations (which I totally saw coming a mile away, but it was still a nice touch). The emotional impact of this film is certainly higher than the previous two but it does come at the expense of humor.

In the end, if you're a fan of the MIB series, this is a worthy addition and helps take a little sting out of the disappointing second act. While it isn't perfect by any means, the story manages to keep things fresh (even if it introduces a host of time-travel paradoxes) and the characters (especially Brolin) are enjoyable.