2.5/4

3/4

2.5/4

3/4

3.5/4

3/4

3/4

2.5/4

3/4

3.5/4

2.5/4

3/4

2.5/4

2/4

2/4

3/4

3.5/4

3/4

3/4

3.5/4

2.5/4

2.5/4

3.5/4

3/4

2.5/4

Next 25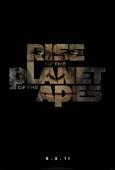 Rise of the Planet of the Apes
Apes-a-Poppin'
3/4 stars
When I first heard this announced, I was skeptical. Even with the names involved, I had my doubts. Part of the reason was the letdown that was Tim Burton's effort to revitalize the series; part of it was hearing this was a "prequel". Yet the trailers gave me a glimmer of hope, and when the buzz and positive reviews started coming out, it actually had me anticipating this film.

It turns out, they did an admirable job of rebooting a franchise that hasn't seen the light of day for 10 years. Part of the reason was the story was easy to relate to: who can't sympathize with a character who feels trapped (in this case, literally) and alone in the world. My friend described as teenage angst mixed with Planet of the Apes - and that's an apt description. Andy Serkis, who has proven once again he's the man to go to for motion capture perfection, plays Caesar like a second skin. Whether swinging from trees or starting an uprising, this is a monkey you don't want on your bad side. Brilliant and cunning - all thanks to James Franco.

Franco is the scientist rushing to discover a cure for Alzheimer's before his father, played quite well by John Lithgow, succumbs to the disease. Testing on chimps has presented great results, and he's ready to prove to the board the drug is ready for human testing. Too bad his star chimp has just become a mother and goes on a rampage trying to protect her baby. Disaster strikes and Franco is reduced from golden boy to footnote at his company.

Yet he keeps the baby chimp and soon realizes his gene therapy is passed on from mother to child, as Caesar shows vastly increased intelligence. With the drug a success, he injects his father, who also improves dramatically. You know these good times can't last - his father fights of the cure (which is a modified virus) and his Alzheimer's makes a comeback. After a particularly bad episode, Caesar comes to his aid, but is hauled off to an primate facility.

Now things get really interesting - Caesar, once treated like son is now just another caged animal. Tom Felton (Draco of Harry Potter fame) is his chief tormentor while Brian Cox plays the indifferent director. And he's not happy about it. Franco develops and even stronger form of the drug, and his boss is more than eager to let testing begin, especially when it shows even greater progress. You know where this is all leading - Caesar escapes, smuggles in the drug and creates the first vestiges of hyper-intelligent primates. Meanwhile, it turns out the wonder drug has quite a different effect on humans than apes - and it isn't pretty.

For a movie about smart apes, the characters are quite well-rounded. Franco, Lithgow and even Caesar are given quite a bit of depth to work with. Freida Pinto's character could have been given a little more development, but the romance things was barely touched upon anyway. That was really the only character I felt could have been axed.

I love the scenes of Caesar trying to integrate with his fellow primates - at first being attacked and later using that developed brain of his to become the defacto leader - quit e fun to watch. While I was expecting a little more action at the end with the ape uprising, it was satisfying enough and, of course, things are left wide open for a sequel (which I wouldn't be surprised is already greenlit considering the numbers).

As another plus, while I can't say it gels 100% with the original films, it didn't feel like it screwed up the continuity of the classic originals. The mention of a mission to Mars was a nice touch - and I love Felton's throwback line to the original: "Get your paw off me you damn, dirty ape" - some may find it a bit cheesy, but it I found it welcome.

Sure, you have to stretch your imagination at some parts, but this is Planet of the Apes we're talking about, not The King's Speech. It was enjoyable and had enough heart and excitement to raise it above a typical summer blockbuster. Hopefully we're going to get more in the future.