2.5/4

2.5/4

3.5/4

3/4

2.5/4

3/4

2/4

2.5/4

3.5/4

3/4

2/4

3/4

2/4

2.5/4

2/4

3/4

3/4

3.5/4

3/4

2/4

2/4

3/4

3.5/4

2.5/4

2/4

Next 25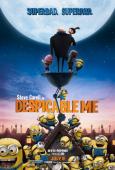 Despicable Me
Despicable? Me! No - Great Animated Fun
3.5/4 stars
It seems live action is out and animation is in this summer. After the emotional punch of Toy Story 3 - Despicable Me comes along to deliver another hefty blow. While I think Toy Story 3 played heavily on nostalgia for audiences who remember the first two, and gave them a great end, Despicable Me goes back to the basics - comedy, fun and enough heart to make it stick.

You start with a good animated movie by having a good vocal cast, and Despicable Me does not disappoint. Steve Carell, with his Eastern-European accent, sounds great as Gru. Jason Segel as his arch-nemesis Vector is a nerdy delight. The trio of orphans, Miranda Cosgrove, Dana Gaier and Elsie Fisher are also sell played - Fisher as the youngest orphan Agnes, steals just about every scene she's in.

Supporting cast from the likes of Russell Brand, Julie Andrews, Kristen Wiig and Will Arnett also add to the fun. However, the most notable characters aren't even human. The yellow-hued minions - jellybean-like creatures with one or two eyes and their own language. Despite being numerous in number, each has their own distinct personality and behave accordingly. The whole film has funny moments, but these minions provide the most laughter.

The story is a take on the old Grinch theme - evil character finds he has a heart after all. It's been done, but making the character an evil super villain - whose exploits include stealing the Times Square jumbotron and Statue of Liberty and Eiffel Tower (the ones from Vegas anyway) - makes the story much more interesting. It's also fun to see that even evil super villains need capital - from an Evil Bank (formerly Lehman Brothers - great joke). Gru's ultimate plan is to steal a shrink ray, then steal the moon, then be recognized as the greatest super villain ever! Young upstart Vector, despite his penchant for sea-based lifeform weaponry, always seems one step ahead.

Some of the best moments are the quiet ones: Gru reading a bedtime story or remembering his childhood - this is what makes it more than just an amusing animated comedy - there is actual emotion behind all the fun. With much disappoint from the live-action side of things this summer (there may still be a few saving graces) - it's good to know that animators haven't backed down.