3/4

3.5/4

2.5/4

2.5/4

3.5/4

3/4

2.5/4

3/4

2/4

2.5/4

3.5/4

3/4

2/4

3/4

2/4

2.5/4

2/4

3/4

3/4

3.5/4

3/4

2/4

2/4

3/4

3.5/4

Next 25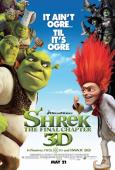 Shrek Forever After
It's Fun, but Not Happily Ever After
2.5/4 stars
It's not that Shrek Forever After is a bad film, only that it feels entirely superfluous to the series. Sure, it's fun to puss in boots as a pampered, fat cat or an army of ogres dance to the flute of the pied piper - but in the end, despite some laughs and fun, this Shrek just feels a little empty.

Essentially this is A Wonderful Life, Shrek style. When Shrek signs a deal with the devious Rumpelstiltskin to have one day as a fierce ogre again, he doesn't know the price he's about to pay. He finds out the day he traded for this adventure is the day of his birth, meaning he's living in a world without Shrek - where Rumple is king, witches rule and fellow ogres are persecuted. Fiona is a warrior queen leading the fight against Rumple. There are some fun moments between the two, as well as Shrek and Donkey, but by this time it feels like it's all been done before.

At least the 3D worked a lot better here than it did in the previous live-action films. There wasn't a lot of things to showcase, but it worked like it should have and never felt like it was trying too hard. Still, there were plenty of flying weapons and in-your-face moments to make it worth the extra ticket price.

The whole production this time just felt more random from the jokes to the story and even characters. To it didn't feel like a finale, but more like a addendum - and a mostly unneeded one at that. I did like the closing credits that gave a shout-out to all the previous films, and overall I was entertained. But in the end I can't help but think this was more about coming up with more money than ending a story.