2.5/4

3/4

2.5/4

3/4

3.5/4

3/4

3/4

2.5/4

3/4

3.5/4

2.5/4

3/4

2.5/4

2/4

2/4

3/4

3.5/4

3/4

3/4

3.5/4

2.5/4

2.5/4

3.5/4

3/4

2.5/4

Next 25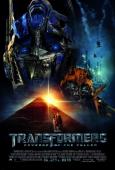 Transformers: Revenge of the Fallen
Revenge is a Dish Best Served Loud and Flashy
2.5/4 stars
Pretty much what I was expecting - the sequel to Transformers brings you all the action you could ever want (perhaps a little too much) throws in enough humor to keep things light and tries to add at least a little drama - but not too much - to give you some emotional connection.

Still, this is a movie all about keeping your eyes and ears in summer mode - lots of fighting robots, chases, shooting, explosions and, for the guys, Megan Fox looking just right. Those expecting an engrossing story will be seriously underwhelmed as the whole Fallen/energon storyline is pretty weak, as is the government vs. giant alien robots.

The movie moves along at a fairy good clip, but by the end I was getting tired of the the umpteenth robot melee. I'm pretty sure they could cut about 40 minutes out and have a much more stream-lined film that would be just as good, if not better.

My biggest grievance though, isn't the autobot Twins with questionable undertones, or the laughable romance or even the rather vulgar humor - my main hangup is the very sloppy writing that leave gaping plot holes (Minor Spilers Below)

I mean some of the robots are there and then they're gone - where did they go? I don't know - dead, alive, floating in space? In holding for the inevitable third act? And moreso - at was pointed out, the all-powerful shard of the all-spark which started this whole adventure is sitting in safe in a auto garage - you know, the same kind of shard that was stolen from a top-secret government facility with state-of-the-art protection.

A movie can only achieve so much by looking good. It kept me entertained, but it left that nagging feeling that something just isn't right and the longer I thought about it, the more it bothered me. So I guess I'm saying, as long as you don't think about it, Transformers Revenge of the Fallen will keep you happy.