3.5/4

3.5/4

4/4

1/4

3.5/4

4/4

2.5/4

3.5/4

3/4

3.5/4

3.5/4

4/4

3.5/4

4/4

1/4

3/4

3/4

0.5/4

1.5/4

3/4

4/4

2/4

3/4

3.5/4

4/4

Next 6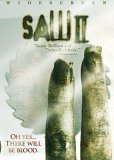 When detective Eric Matthews (Donnie Wahlberg) is called to a crime scene of a victim of Jigsaw (Tobin Bell), he finds a lead to the place where he is hidden. Once there, he realizes that Jigsaw trapped his son Daniel Matthews (Erik Knudsen) with three women and four men in a shelter, and they are inhaling a lethal nerve gas. If they do not use an antidote within two hours, they will die. Eric follows with increasing desperation the death of each member of the group in monitors, while trying to convince Jigsaw to release his son.

I must say right off the bat that Saw II is probably one of the only horror film sequels that I have ever anticipated to be good. Since Saw now has such a huge fan base and all, I was not to surprised to find out about this sequel coming as quick as it did. Unlike the first movie, the director Darren Lynn Bousman puts us face to face the Jigsaw. The first movie kept him a creepy voiced cloaked figure while in here, we see him within the first 20 minutes of the film. I dont know how I feel about this. By adding the element of not seeing directly who we were dealing with in the first one, it added some suspense along with some mystery. Now that we have seen him, we kind of feel like he was just small and just nothing now that we look back at the first one. At the same time, I like the fact that we meet him directly because it opens up so many more doors for the director and the plot. Now that we have figured out who he is, it gives us more of a character study because now we can place a face.

With the change of directors from James Wan to Darren, of course we are not going to get a movie which equals up to the first. So now, instead of 2 people locked up in one room, we get 8 people locked up in a whole house. I can understand the reason for this because with so much more space and areas to do something in, we can get more variation throughout the movie. Plus we cant say that all it is is a remake of the first (think of Evil Dead to Evil Dead II).

Instead of Darren changing up the directing to his own unique style, he kind of steals from James in a way. With Saw, James used all the technology to create a better film, and Darren follows that a little to closely I believe. Its good that he wants to create a sequel which follows the original but this is followed to closely. In some moments I believe he overdoes it just a little bit, because then it gets repetitive and just plain boring to watch after a while.

Darren adds more blood to the mix then what we had in the original. I am not complaining at all, but Saw was great with the limited blood that it had. Saw II gets a little bloodier this time with another slit throat, a burning, needles in the skin, slit wrists and a bat with nails in it to the back of the head. The movie is not a gore fest, but there's more here then the first one.

Saw II misses being as good as the first by a little bit. Maybe if we got some more character insights and all it could have matched up. It has a great ending and is fun, but it follows to closely to Saw to be in my loving.