3/4

1/4

3/4

3/4

4/4

3.5/4

0.5/4

3.5/4

3/4

3/4

3.5/4

2/4

2.5/4

4/4

2/4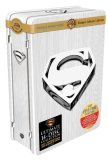 Superman IV: The Quest for Peace
Superman IV Awful....Spoilers 4 sure
1/4 stars
I recently watched all 4 Superman movies over the period of a week or so. This was the most horrible of those movies. I'll say right up front that Christopher Reeve was the only good thing in this movie. His version of Clark Kent and Superman are, by far, my favorite. He adds a depth to the part no matter what dialogue he has to work with. His Clark seems to enjoy acting like a klutz, as if he's amused by it. He very much looks the part of Superman.
Sadly, Mr. Reeve is the only good thing in this film. He's why this even got one star. The plot was stupid. It's bad enough that Superman's going to throw all the nuclear weapons in to the sun, Lex has his whole Nuclear Man plan. Lame. I wondered if tossing all those nukes into the sun would have some sort of effect on the sun and/or the Earth. I suspended that doubt and carried on. Switch to Lex's plan. He needs DNA from Superman to do some weird clone tossed in to the sun thing. Of course, there's a display of a single hair of Superman holding up a 10 ton weight. He manages to snip the hair with some kind of cutters. But how? It's Superman's hair. You can't cut that. Not to mention you'd need the root for any DNA. Nuclear Man is born when the clone thing Lex has made and hidden on a nuke is tossed in to the sun. By born, I mean a fully formed man, with blond hair, muscles and a very tight costume. For some reason he has long nails. Destruction and battles ensue. For some reason, Nuclear Man managed to scratch Superman's neck with his nasty long nails and makes him sick. Fortunately, the last piece of Krypton heals Superman and after a long battle with Nuclear Man, he figures out his weakness and defeats his enemy.
Too many things didn't make sense in this movie. I just kept questioning things...like why didn't that Hemingway sister die when Nuclear Man takes her in space? It's freezing cold and there's no oxygen. She should have been dead but remained unaffected. Bunches of things didn't make any logical sense. I can't possibly suspend all logic when watching a movie. The script was crap, although the actors did good jobs acting. I can't even imagine what the hell was going through the writers' minds while churning out this piece of crap. So, hooray for the actors, particularly Christopher Reeve, but boos and hisses for the shitty script and the the awful plots. I wouldn't recommend it unless you're determined to watch all four of them or you enjoy tearing bad movies apart while viewing them.