4/4

1/4

3/4

2.5/4

3/4

2.5/4

4/4

3.5/4

3.5/4

1/4

3.5/4

3.5/4

3.5/4

3.5/4

3.5/4

3/4

2.5/4

3.5/4

3.5/4

3.5/4

3.5/4

3.5/4

3.5/4

3.5/4

3.5/4

Next 25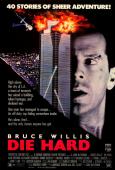 Die Hard
Yipee-KiYea
4/4 stars
The eighties was the decade of the big blockbuster action flick - Lethal Weapon, Beverly Hills Cop, Cobra, Commando etc. But one film outdoes them all and this is it Die Hard, the action sequences are superb and set the standard for everyone to follow. The premise is a good one and while not exactly realistic it provides a firm base for some rocking action.Our main hero John McLaine (Bruce Willis) is well drawn and manages to avoid falling into the cliché trap of some action hero's, a sub-plot with his estranged wife is given just the right amount of time to provide depth without spoiling the pacing of the movie or feeling tacked on. The other main relationships in this movie is equally well played with the one good cop on the outside John forms a bond through humour and necessity and the interplay between them provides a nice counterpoint to give the audience a chance to draw it's breath.
Also credit has to be given to Alan Rickman as Hans Gruber for creating one of the best bad guys of any action flick, Rickman seems to have a nice line in bad guy persona's as he was easily the best thing in Robin Hood Prince of Thieves playing the sublimely evil Sheriff of Nottingham. But lets face it action is what we want here and boy those it provide it, bad guys are picked off left right and centre, a rooftop shoot out and one incredible explosion.
If you love action movies and you haven't seen Die Hard get out there right now and get yourself a copy it'll be one of the best action movies you'll ever see.