3.5/4

2/4

3.5/4

1/4

3/4

2.5/4

3.5/4

2.5/4

3/4

2.5/4

4/4

3/4

1/4

3.5/4

2.5/4

3.5/4

3/4

4/4

2/4

4/4

4/4

3.5/4

3.5/4

3.5/4

4/4

Next 25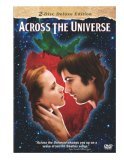 Across the Universe
ACROSS THE BEATLES UNIVERSE
2.5/4 stars
A medley of The Beatles hits put into film while trying to concoct a plot. I didn't realize that JULIE TAYMOR met my brother years ago before her rise to stardom. My brother gave her a grand tour of the Philippines, and invited her to speak at seminars for PETA (PHILIPPINE EDUCATIONAL THEATRE ASSOCIATION - not to be mistaken for the animal-friendly movement). My brother said that she was a decent lady with a magnetic persona. Hopefully, she stayed the same.

The film made $29 million against a huge $45 million production budget. Like any other musical, the challenge is to make sense of all the sub plots involved and come up with a single-thread storyline. My daughter adores the film because, according to her, "JIM STURGESS IS HOT!" OK! Well, I think EVAN RACHEL WOOD is hot too.
I believe that it didn't have the pre-film support advantage like any onstage production would have such as LES MIS, PHANTOM OF THE OPERA, or RENT to name a few.

Still worth seeing though.