2/4

2/4

2/4

3/4

3.5/4

3/4

1.5/4

2.5/4

3.5/4

2.5/4

3/4

3.5/4

3/4

2/4

3.5/4

3/4

3/4

3.5/4

3/4

3.5/4

3.5/4

3.5/4

2/4

3/4

3/4

Next 25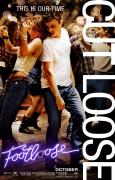 Footloose (2011)
Blake Shelton, you're no Kenny Loggins
1.5/4 stars
I don't have a problem with this film being remade, but I do have a huge problem with how it was done. There was a decision to try to appeal to both fans of the original and try to update the story. The result just doesn't work. A town banning music and dancing is much more believable in 1984 than 2011, and much of the lines in a modern time seem more cliche and unbelievable.

Of course, that's just a minor problem. The real problem is the fact that they mostly cast dancers instead of actors, moved the story to the south and countrified the music and characters, and clearly only have scenes because they were in the original. As a result you get poor acting, a story that's a mess, and just a disaster all around.

But I do still appreciate the irony that in a town where dancing is banned, everyone is an amazing dancer.