2/4

2/4

2/4

3/4

3.5/4

3/4

1.5/4

2.5/4

3.5/4

2.5/4

3/4

3.5/4

3/4

2/4

3.5/4

3/4

3/4

3.5/4

3/4

3.5/4

3.5/4

3.5/4

2/4

3/4

3/4

Next 25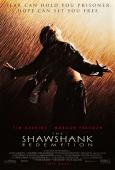 The Shawshank Redemption

4/4 stars
For years this has been a film favorite of many, and though it came out nearly 15 years ago, it still holds a special place in many people's hearts when naming their favorite film.

On the outside it's a prison drama as it follows the lives of two inmates, Andy and Red, who build up a friendship set against the horrors of prison. But digging deeper, you find themes of redemption, as Andy and Red fight what society deems prisoners such as themeselves.

What people really latch onto emotionally is probably Andy's never-wavering belief in hope. He's innocent, beaten, raped, and used as a money launderer to benefit the prison, yet he never loses hope that one day his life will be better, even though those around him tell him it's impossible. I think that's what has made this film maintain it's popularity. Critically acclaimed, but a commercial bomb when it was released, it has found sustained life for many years and will probably continue to do so.