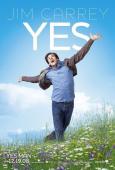 Slightly underrated, Yes Man, is just another bump in Jim Carrey's road of hilariousity. Carrey portrays a person who could easily be considerd a "no man" (a phrase not uterd, but screamed far too many times in this film) who attends a convention to become more of a "yes man." He changes his life by saying yes to every question he get's asked, including learning to speak Korean, throwing his best friends', fiance's bachelorette party, and attending his boss' "dress up as your favorite Harry Potter character" costume party. Along his journey to become more likeable, he meets and falls in love with the lead singer of an obviousally quirky band, amazingly played by Zooey Deschanel, (which by the way, may be best part of the film.)

The movie has its highs and lows, unfortuneatly for us though, more lows than highs. Prepare to be amazed at the "oh, i get it, their trying to be funny" jokes, but dont fret, because you might just actually laugh (Zooey, im looking at you.)
All in all, this movie sucked, just not as hard as you'd expect.