3/4

4/4

3/4

3/4

4/4

3/4

4/4

4/4

4/4

4/4

3/4

4/4

4/4

4/4

4/4

3/4

1/4

3/4

2/4

4/4

1/4

4/4

3/4

3/4

3/4

Next 4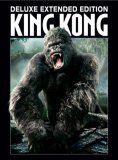 King Kong (2005)
Excessive, yet beautiful,
3/4 stars
Films usually take some time to establish themselves in my mind, so my opinion could change within a week or a month. I liked this film; I've never seen such an extensive use of long, sustained shots using monumental digital effects in any other motion picture. The whole dinosaur sequence should guarantee the film a Best Visual Effects win. The problem is that these moments of intense awe cease from being something never before seen rather quickly and become somewhat tiresome. Peter Jackson should learn to refrain himself at times.

The whole cast works just fine as an ensemble (nobody is truly Oscar-worthy, not even Naomi Watts - who, sometimes, looks incredibly like Nicole Kidman). Is the running time excessive? It might be for some, but it doesn't feel long because the story is well-developed and has only one unnecessary subplot: the one including Jamie Bell's character. Anyway, this is bigger, more intimate and resonant than any of the previous films made by the director of the Lord of the Rings trilogy. I wasn't moved by it, but I was certainly amazed by its technical grandeur.

Recommended for those who have patience and enjoy contemplating beautiful imagery.