3/4

4/4

3/4

3/4

4/4

3/4

4/4

4/4

4/4

4/4

3/4

4/4

4/4

4/4

4/4

3/4

1/4

3/4

2/4

4/4

1/4

4/4

3/4

3/4

3/4

Next 4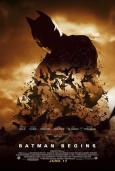 Batman Begins
And so it begins... A great film
4/4 stars
This is a surprisingly bold comic book adaptation. A relevant statement must be cleared up before continuing this very positive and constructive review: I am not a Batman fan at all. In fact, its vast mythology and long history are unfamiliar to me. BATMAN BEGIS is a primary example of above average film-making. That can be noticed right from the moment it begins. Christian Bale (the young child star from Empire of the Sun) stars in what is arguably director Christopher Nolan's best and most accomplished film to date. His particular vision of the Dark Knight is less pretentious than his latest efforts, which includes the ever overestimated MEMENTO and the slightly superior INSOMNIA, a decent cop thriller. A vigorous and somewhat shadowy adventure blockbuster that rises itself in level if directly compared to other recent summer popcorn flicks, such as George Lucas' disappointingly shallow THE REVENGE OF THE SITH and Steven Spielberg's poorly developed WAR OF THE WORLDS. The main reason for the triumph is nothing but the mere existence of many favorable elements backed up by various skilled professionals. It does not take its intense plot too seriously - even though the script concerns sober subjects - and all actors that are part of the top-notch ensemble give their best while portraying every single character. The tight screenplay written by David S. Goyer and also Nolan himself is solid overall. It is far from perfect, however, and not exactly thoughtful. It does lack both strength and density at certain times - especially during the cliché romantic moments between Bruce Wayne and his love interest Rachel Dawes.

Wayne's troubled psyche should have been explored in a more intellectual, perhaps deeper way. The same criticism goes to the omnipresent vengeance theme, which is complex and was not dealt with properly. What Nolan has to offer is mature and often nearly brutal stuff, even if not enough to equal the excruciatingly bizarre BATMAN RETURNS in terms of offbeat misè en scene - not that this can be considered a con. BATMAN BEGINS makes that pair of colorful, playful, mediocre sequels perpetrated by an overactive Joel Schumacher look like nothing more than over-the-top child plays in form of expensive industry products. Other Batman installments totally pale if compared to this glorious restart of an important franchise. I must give credit for the outstanding production values: they are a standout. William Pfister's solid cinematography precisely balances light and shadow in widescreen. He does his job without giving much room to needless stylization, which would clearly dilute the evident quality of the whole flick looking like real life. The camera work is as agile as Batman's fast moves. The monumental production design, which includes elaborate art direction and detailed set decoration, gives the film a much appreciated and striking touch of fantastic realism. You suddenly begin to wonder when was the last time we saw Gotham City portrayed in such a tentatively realistic rendering. Lee Smith, whom earned that recent Oscar nomination for the powerful Peter Weir epic MASTER AND COMMANDER, succeeds as an efficient razor-sharp editor. There are truly enthralling sequences to watch here. Take the entire Batmobile chase scene for instance.

It's just an example among many others to be found in BATMAN BEGINS. Electric, brilliant. The only problem, which at specific moments happened to be just a bit annoying, was the fact that the film, as a whole, was put together in a way that only a few shots would last more than two or three frantic seconds. It felt like Smith had director Michael Bay and producer Jerry Bruckheimer tipping off on his shoulders for most of the time, offering some advice on how to cut by applying their favorite and much-maligned editing mannerism which should be called "blink and miss it". Nolan and his crew achieved a very professional and smartly crafted - as stated before - piece of high-profile Hollywood superhero adventure. There are few common places that really matter. Fewer distractions. More will to do something that deserves to last for a long time. More faithfulness to the main character and its heart and soul. I wouldn't personally describe it is a memorable masterpiece because I could not establish a more vivid connection with Bruce Wayne's intimate drama. The screenwriters are talented enough to solve that forgivable imperfection in the upcoming sequel. BATMAN BEGINS is a very useful film for people like me, who don't have a lot of basic knowledge regarding this iconic character and that were previously left unimpressed by other movies undeniably inferior to this one. It does what it's supposed to do. It competently shows us how Batman actually began. Christopher Nolan is responsible for the beginning of a new franchise. A welcome breath of fresh air. Recommended.