2/4

0.5/4

2/4

4/4

3/4

2.5/4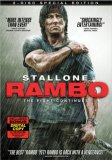 Rambo
Rambo once more.
2.5/4 stars
You get exactly what you expect from this film and with Stallone's personal touch a bit of a surprise. While in one of the interviews included on the DVD Stallone says he wanted to stay away from a "caper" that's exactly what we find John Rambo falling into in an effort to rescue missionaries from a Burmese prison camp.

The action and blood are the usual though it seems as if Stallone went out of his way for realism with the close ups and slow motion shots of decapitations, bullet wounds and disembowelments.

The one thing Stallone adds to this film is the inner turmoil Rambo is going through as he finally comes to terms with who he is as a "fighting machine", what his past has done to him and, finally, a peace he can find for himself.