2/4

2/4

3.5/4

4/4

2/4

2/4

2/4

2/4

2/4

1/4

1/4

1/4

1/4

0.5/4

0.5/4

0.5/4

0.5/4

0.5/4

1/4

0.5/4

0.5/4

0.5/4

0.5/4

0.5/4

4/4

Next 4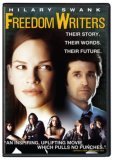 Freedom Writers
Vastly Underrated
4/4 stars
The idea of an inspiring teacher actually making a difference may seem cliché nowadays, but there's nothing cliché about Freedom Writers. The tale of a young teacher struggling with gangs, and inner city violence, and a system which has all but given up on the very students she was hired to help learn is, simply put, a great film.

My response to this film might be slightly different than your average movie goer, so let me explain why. I come from a long line of teachers and graduated myself with a teaching degree which I put to work immediately in Kansas City. As a first year teacher in an urban school I struggled with many of the same issues Gruwell faced - a diverse and disinterested student body, lack of any real parental support, the behind-the-scenes politics, a staff of hardworking but tired teachers making more concessions every year, and administration with no real power to change things. I know all too well the draining power and burn-out this can have on a struggling first year teacher.

The film gets it all right and never settles for easy answers when a hard truth will work instead. It's a touching story that will shed some light on both the limits and the extraordinary achievements of public education in America.

This is Swank's best role since her Acamdemy Award winning performance in Million Dollar Baby, but the real stars are the supporting performances of the students. There are too many to go into long details about each performance so I'll just list these wonderful young actors who each pour their whole hearts into the role. You can tell when a film is important to the cast of a film. Freedom Writers was obvioulsy an important story for everyone involved.

First there's April L. Hernandez as the hard-as-nails Eva fighting a choice of what is right and what is necessary for survival. There's Jason Finn as the homeless gangbanger who only wants to be taken back by his mother. There's Hunter Parrish as the "white kid" of the class. And there's Mario as a student with real potential who is caught between the gang lifestyle and pursuing something more. And those are just the beginning of a long list which also includes Jacklyn Ngan, Vanetta Smith, Kristin Herrera, and Deance Wyatt.

This is a great little film that I hope you take the time to seek out and enjoy.