4/4

0.5/4

2.5/4

3.5/4

4/4

4/4

4/4

4/4

4/4

2/4

4/4

4/4

4/4

4/4

4/4

3/4

3/4

4/4

3.5/4

2/4

N/A

4/4

4/4

4/4

2.5/4

Next 20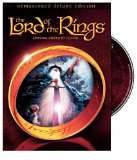 Lord of the Rings, The (1978)
Lord of The Ring Animation
4/4 stars
I remember watching this film when i was kids, I was 4yrs old when this came out on release.

I watched it at the age of 12yrs old my brother was 8yrs

It's quite eerie the Orcs of Mordor especially how they blended real actors/horses into part animation integrated into the film.

I liked it so much I bought it on DVD 20yrs later just so my daughter and partner could see it and they really enjoyed it a brilliant film of it's time and still brilliant today.

I have been asked by many people who I know who wanted to see it so I gave them my disc to watch, so I highly recommend watching it only thing is it ends without the final 2 parts but still worth watching.