0.5/4

3.5/4

3.5/4

1/4

3/4

3/4

1.5/4

3/4

0.5/4

3/4

2.5/4

1.5/4

3/4

1.5/4

4/4

3.5/4

1.5/4

2/4

2/4

2.5/4

2.5/4

2/4

2.5/4

3/4

3/4

Prev 25 | Next 25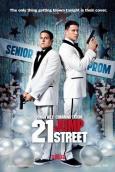 21 Jump Street
Jumping Good Time
3/4 stars
The new release from Sony pictures, '21 Jump Street' is a comedic take on the original TV series of the same name. The premise of this film follows the same concept as the TV show, using undercover cops that pose as high school students to combat crime in the school system. However, the movie version is played strictly for laughs. If you enjoyed the previews for this, then you'll most likely enjoy the rest of it. '21 Jump Street' manages to poke fun at everything from a Korean Jesus to the TV show 'Glee'.

The film stars Jonah Hill, who seems to be everywhere these days after first getting a lot of attention in 'Superbad'. He's since stayed on a roll with 'The Sitter', 'Get Him To The Greek', and 'Money Ball' (for which he scored an Oscar nomination for his supporting role opposite Brad Pitt). Jonah also shares a screen writing credit for this film. Co-starring with him is Channing Tatum, who also has been keeping in the spotlight with the recent release of 'The Vow', last year's 'Haywire', and his part as Pretty Boy Floyd in 'Public Enemies'.

Hill is cast here as a nebbish, yet smart high school student to Tatum's decidedly dim-witted star athlete. The film quickly fast-forwards to these two graduating from the Police Academy and being paired up within the same department. Demonstrating an inability to handle the most basic patrol assignment, they are dumped off to the undercover unit based out of the church at the aforementioned address. Ice Cube does a great turn here as the no-nonsense, ill tempered, Sergeant Dickson, who leads the undercover unit. The rest of the cast is so-so and mostly forgettable as the action centers almost exclusively on Tatum and Hill.

Rated 'R' for language, partial nudity, and subject matter, '21 Jump Street' feels like a cross between 'Napoleon Dynamite', 'Superbad', and 'Bad Boys'. The humor is mostly the off-color variety, and there was a memorable running gag involving a chase scene, but the film sticks very close to the buddy-cop-comedy formula. The movie does manage to pay homage to its roots in a very surprising way (don't want to give that away here). Other than a few spots where the story dragged along, it was mostly enjoyable. While I don't consider this to be a great movie, it did have its moments. To be sure, the humor is sophomoric and mostly off-color, so if you're easily offended, you may want to skip this. If you're just looking to laugh, '21 Jump Street' might just be your ticket.