0.5/4

3.5/4

3.5/4

1/4

3/4

3/4

1.5/4

3/4

0.5/4

3/4

2.5/4

1.5/4

3/4

1.5/4

4/4

3.5/4

1.5/4

2/4

2/4

2.5/4

2.5/4

2/4

2.5/4

3/4

3/4

Prev 25 | Next 25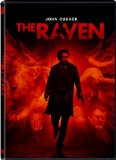 Raven, The (2012)
The Raven - A Mystery Not Worth Solving
1.5/4 stars
'The Raven' is a mix of fact and fiction that uses some of the known elements of Edgar Allen Poe's last hours and pieces of his actual literary career as a basis for this complicated mystery. The story itself is pure fiction. Set in 1849's Baltimore, the film shows an erratic and nearly destitute Poe looking to milk every last benefit of his celebrity even though he has clearly worn out his welcome in most quarters. A string of unusual murders appear to tie in with several of the writer's earlier macabre stories, and he finds himself drawn into helping the police catch the perpetrator by deciphering the clues intentionally left behind.

Director James McTeigue ('V For Vandetta') helms 'The Raven', and he does a respectable job of trying to capture the look and feel of the mid-19th century city of Baltimore. Unfortunately it takes some time for the story to gather any kind of steam and the beginning of the film feels too drawn out. To me, it never really recovered from there on out.

John Cusack ('2012', 'Midnight In The Garden Of Good And Evil') fills the role of Poe, and he does a good job of selling the character as a man who's better days are behind him, but as the mystery unfolds, he switches to a different persona that shows him as dedicated and earnest in his actions. It's hard to tell if this is a problem with the script or Cusack failing to be consistent with his character. He plays opposite Luke Evans ('Clash Of The Titans', 'Three Musketeers'), as Detective Fields, who is leading the investigations. Evans does a good job, but also seems limited by the script. While his character seems to possess some good period-correct C.S.I.-type skills, they are underutilized except for a couple key plot points.

I am still trying to figure just what might have prompted this project. Was this blatant attempt to cash in on the popularity of the Sherlock Holms films ('Sherlock Homes', 'A Game Of Shadows') of a feeble attempt to pay homage to them? In either case, 'The Raven' falls far short of either of these. The story line plays out a bit like the film 'Se7en', but the mysterious trail of clues seem needlessly overcomplicated and somewhat confusing at points.

This was playing at a local multiplex and the theater was less than 1/3 full on a Friday night. I'm not sure if that was because it was being shown in the premium theater (i.e. higher ticket pricing) or 'The Raven' will have trouble finding a real audience. For me, that mystery is just not worth solving.