0.5/4

3.5/4

3.5/4

1/4

3/4

3/4

1.5/4

3/4

0.5/4

3/4

2.5/4

1.5/4

3/4

1.5/4

4/4

3.5/4

1.5/4

2/4

2/4

2.5/4

2.5/4

2/4

2.5/4

3/4

3/4

Prev 25 | Next 25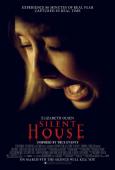 Silent House (2012)
Silent House - Horrifically Tedious
0.5/4 stars
It's never a good sign when a film's back-story is more interesting that the film itself. 'Silent House', a new release from Open Road Films, is actually a remake of a 2010 Uruguayan Spanish-language horror film that was similarly titled as 'The Silent House'. Both are billed as being inspired by true events (more on that in a bit). Directors Chris Kentis and Laura Lau, the same team that brought us 'Open Water', helm this remake. Much like their earlier film, the main characters here are trapped within their environment and menaced by attackers who are rarely glimpsed.

The key feature of both 'Silent House' films is that they were shot as one complete scene. They were also both shot using a hand-held camera, and only ever employ just that one viewing angle (think 'Blair Witch Project'). There are no cut-aways, or fade-outs; the film plays out in real time over the course of just under 90 minutes. As a result of this shooting method, there is little in the way of special effects. Instead, the directors of 'Silent House' rely heavily on the perspective of the hand-held camera, limiting the depth of focus to deliberately obfuscate some objects until a key moment. Other views were restricted by the camera angle and employed panning to reveal some shocking image.

Both films garnered a bit of controversy by attempting to claim that they had been shot in a single take, but that statement was later revised to say the filmmakers wanted to give the appearance of having shot this in a single take. Controversy is still publicity, right? As far as the 'real events' behind the film's story – the most I could come up with was an explanation that many years ago there had been a double homicide and the suspected killer had taken photos and left them at the crime scene, but was never caught. The original directors explained that this film was merely their attempt to put a back-story to the unsolved crime. Pretty thin basis for saying based on true events – but both films still make this claim.

What about the actual movie? Well, it does star Elizabeth Olsen (yes, sister to the infamous twins) as the main character. Her Dad and Uncle are in the process of fixing up an old lake house. Because the house had previously been vandalized, all the windows were boarded up and exterior doors fitted with internal locks. It's these modifications that trap Olsen and her Dad initially and add to the fear factor. The camera work, while it definitely contributes the chills being served up, eventually becomes mostly annoying. Olsen should get an Academy Award for her almost 60 minutes of non-stop sniveling, hyperventilating, and muffled screams.

'Silent House' does deliver some genuine chills, but is eventually undone by its own camera work gimmickry. Within the last ten minutes, the film does an abrupt switch to psychological thriller mode. Because everything is so immediate, this flip doesn't really play out well. The ending is just absurd and only cemented my negative response to this film. Perhaps others may find this a worthwhile piece of entertainment, but I felt it was yet another combination of a great concept with poor execution.