0.5/4

3.5/4

3.5/4

1/4

3/4

3/4

1.5/4

3/4

0.5/4

3/4

2.5/4

1.5/4

3/4

1.5/4

4/4

3.5/4

1.5/4

2/4

2/4

2.5/4

2.5/4

2/4

2.5/4

3/4

3/4

Prev 25 | Next 25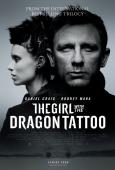 Girl with the Dragon Tattoo, The (2011)
A Remake That Dares To Compare
3/4 stars
A Swedish business magnate's 16-year-old niece vanishes without a trace and for 40 years he continues to try and solve what most presume to be a murder case. Part of his motivation comes from a collection of mounted flower pressings, a ritual birthday gift that his niece used to present to him - and he still receives every year. Thinking the killer is using the gift as a way to taunt him, the magnate continues to investigate long after others have given up.

'The Girl With The Dragon Tattoo' is Director David Fincher's ('The Social Network', 'The Curious Case Of Benjamin Button') own take of the original Swedish film (2009) of the same name. Fincher and writer Steven Zaillian ('Money Ball, 'Schindler's List) stick pretty close to the original movie, but have taken a few liberties to 'Americanize' the story a bit. The value of those changes is certainly debatable, and I was disappointed by a couple of them, but I don't think they necessarily hurt the film. Fincher's choice of an opening credit montage is also strange. While visually interesting, it has no discernable connection to the story, and looks more like something we're used to seeing at the start of a James Bond film (perhaps a subtle nod to Daniel Craig's current stint as 007?)

Daniel Craig's character, Mikael Blomkvist (which seems loosely based on the author) is an investigative reporter for Millennium magazine who has just been convicted of slandering a major corporate leader. While Craig's character is central to the story, the girl with the actual dragon tattoo is the one the audience will be drawn to. Lisbeth Salander (an outstanding and gritty performance here by Rooney Mara) is antisocial and detached, but is also a highly intelligent part-time investigator for a security firm. A prototypical Goth chick, her specialty is secret investigations, but she's also a proficient computer hacker and electronics geek. As we meet her, she's been hired to investigate Blomkvist as a background check for a client seeking to hire him, despite his recent conviction.

Hollywood veteran, Christopher Plummer, plays the retired business magnate, Henrik Vagner. Vagner is convinced that his niece was murdered by a family member or someone else close to him and wants Blomkvist to investigate. Blomkvist is eventually made aware of Lisbeth's work and takes her on as an assistant. While the mystery itself has a number of wrinkles, we begin to learn of Lisbeth's own troubled back-story and watch her in action as she fights back against a predator that has victimized her.

For those unfamiliar with the story, the film may seem excessively violent (the rape scene is particularly unsettling) and the story over complicated. I felt that this US remake did a decent job of capturing the original Swedish version, but wondered if all the Swedish cultural elements translated as well. Craig does a good job with the character he plays and is likely to reprise the role if this movie does well enough to merit production of the other two installments. As for Mara, I was curious to see if she could do justice to the part originally played by Noomi Rapace ('Sherlock Holms - A Game Of Shadows'). As far as I could see, she not only nailed it, she put her own stamp on the character; making Lisbeth both aloof and emotionless, while showing just a bit of passion that lies within.

Comparisons to the original Swedish film are inevitable, and even though this version is pretty decent, I still think the original is the better movie. If you like a good mystery, 'The Girl With The Dragon Tattoo' is worth checking out. If you dare to compare, seek out the original Swedish version as well!