0.5/4

3.5/4

3.5/4

1/4

3/4

3/4

1.5/4

3/4

0.5/4

3/4

2.5/4

1.5/4

3/4

1.5/4

4/4

3.5/4

1.5/4

2/4

2/4

2.5/4

2.5/4

2/4

2.5/4

3/4

3/4

Prev 25 | Next 25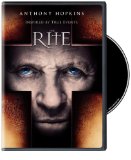 Rite, The (2011)
A Rare Dissapointment From Anthony Hopkins
1.5/4 stars
The big draw for 'The Rite' would seem to be Sir Anthony Hopkins. Despite the previews indicating otherwise, he's actually a co-star in this film. The real central character here is relative newcomer, Colin O'Donoghue. Colin plays Michael Kovak, an aimless young man who studied for the priesthood, but is undecided about actually being ordained. He seems more interested in escaping his father's plans for him to take over the family funeral home than weighing his true beliefs.

Hopkins plays a Jesuit priest, Father Lucas Trevant, a rather unorthodox, but well respected 'expert' on exorcisms. When Kovak indicates his reluctance to fully embrace the priesthood, he is asked to consider a course of study in this area and is eventually paired up with Trevant. Ever skeptical, Kovak continually dismisses the things he witnesses with logical explanations, preferring to diagnose psychosis rather than demon theology. At one point, Trevant intones: "Choosing not to believe in the Devil, doesn't protect you from him."

Both main characters fill their roles very well, Hopkins giving an almost Hannibal-like level performance himself. The problem I found with The Rite was that it spends a goodly amount of time laying out the points that Kovak seems right to question; the possessed characters used here are done so in a very subtle manner and their affectations seem to have potential normal causes other than the demons that Trevant is always seeking out. But as the story reaches a more critical point, subtlety is thrown out the window and the action starts to feel heavier handed. The wrap-up is also simply abrupt and not fitting with the pace originally set.

Several other films have tackled this subject, like 'The Exorcism Of Emily Rose', or 'The Last Exorcism', but none have compared to the original of this genre, 'The Exorcist'. The reason that film succeeded above any of these others is that the audience is slowly introduced to the elements at play and those elements are layered into the story evenly until they culminate into the final confrontation. I'm afraid that Director Mikael Hafstrom (previous disappointing efforts include '1408' and 'Derailed') didn't consider this and may have just been anxious to get to the scenes where Hopkins could let his evil side fly.

While supposedly 'suggested' by real events, do not confuse the claim with 'based on a true/real story'. I was disappointed because this film showed so much promise in the first hour or so, but as happens all too often in the movie biz, the execution doesn't always add up to the expectations.