0.5/4

3.5/4

3.5/4

1/4

3/4

3/4

1.5/4

3/4

0.5/4

3/4

2.5/4

1.5/4

3/4

1.5/4

4/4

3.5/4

1.5/4

2/4

2/4

2.5/4

2.5/4

2/4

2.5/4

3/4

3/4

Prev 25 | Next 25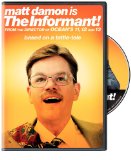 Informant!, The (2009)
Matt Damon Bombs
1.5/4 stars
Megan Fox or Matt Damon? Megan Fox or Matt Damon? This was my quandary as I stood in front of the box office this afternoon. While part of me was curious to see if 'Jennifer's Body' could chew all of the bite taken by its previews; I also felt that it would probably be a bit too sophomoric in the end. To me, 'The Informant!' seemed like a vote for cinematic intelligence – boy was I gonna be sorry!

I really hate to pan this movie because Matt Damon, as Mark Whitacre, truly acts his posterior (and his prosthetic nose) off in this snoozer of a flick. That fact alone makes this barely watch-able, since he's in 99.9% of the scenes. Directed by Steven Soderbergh ('Michael Clayton, 'Pleasantville', 'Good Night, and Good Luck'); the script plays out like a one note song.

While based on factual events, Soderbergh chooses to paint the story as a corporate farce with writer Scott Z. Burns and the book's author, Kurt Eichenwald, as co-conspirators. While there are a few light chuckles (heavy emphasis on few & light), the audience can see where the story is going with their eyes closed. To compound the boredom, we keep being brought back to the central point of Mr. Whitacre's veracity, over and over and over again. The joke of Whitacre being told not to do something – so he does it, is funny once or twice, but gets old fast.

The story takes place in the early 90's, but Soderbergh's time machine must have malfunctioned as his direction gives the final product a '70's' look and feel from the costumes right down to the titles. Scott Bakula does a decent turn as FBI Agent Brian Shepard, and we get some cameos by folks like the Smothers brothers (remember Dick & Tom?) In my humble opinion, 'The Informant!' as a light comedy film didn't translate well from the book, which was written as a thriller. While I usually enjoy most of Damon's work ('The Departed' is a favorite) I liked him better when he was Brad Pitt in 'Burn After Reading'. If Mr. Soderbergh was trying to duplicate that bit of Coen Brothers cine-magic, he fell very far short. I wonder when the next showing of 'Jennifer's Body' starts?