0.5/4

3.5/4

3.5/4

1/4

3/4

3/4

1.5/4

3/4

0.5/4

3/4

2.5/4

1.5/4

3/4

1.5/4

4/4

3.5/4

1.5/4

2/4

2/4

2.5/4

2.5/4

2/4

2.5/4

3/4

3/4

Prev 25 | Next 25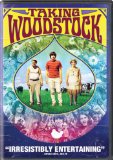 Taking Woodstock
Not What I Expected
2/4 stars
It is so fitting that on the 40th anniversary of the famed music festival that we would get yet another homage to that epic event. Directed by Ang Lee ('Ice Storm', 'Brokeback Mountain'), the film is actually based on the memoirs of the lead character, Elliot Teichberg. If you're planning on taking in this movie, be forewarned that the actual Woodstock Festival makes only a cameo appearance. This story is more about Elliot and some other key people close to him, and the effects the subject event has on them and their lives.

The script closely follows Elliot (played by stand-up comic Demetri Martin) as he tries to help his aging parents cope with running a run-down motel that appears to have little hope of ever becoming profitable again. In the process, Elliot sacrifices his own career and appears to be at a crossroads of his life on multiple fronts. One of the real standout performances here is from Imelda Staunton ('Harry Potter and The Order of The Phoenix', 'Nanny McPhee') as Elliot's Mom, Sonia. Other familiar faces include Eugene Levy ('American Pie', 'A Mighty Wind') as Max Yasgur and Richard Thomas ('Waltons') does a short turn as Reverend Don, one of the festival organizers.

Ang Lee does a great job of capturing the era and the flavor of the rural Catskills area. Costumes, vehicles, background events all paint a complete backdrop that is effective in transporting the audience back 40 years. The music is a bit of a tease, as we only get snippets of Hendrix, Guthrie, Jefferson Airplane, and others as the story plays out. While the film is based on a memoir, some liberties have been taken to make more of some of the central themes. For instance, in 1969, Elliot would have actually been about 34 yrs old. His character is portrayed as a younger man in his early 20's; a change that plays better into the story line of young people putting on the concert and him becoming more self-aware.

While 'Taking Woodstock' is a really character study, it probably does a bit of a disservice to the event by playing up the sex, drugs, and rock-n-roll aspect as opposed to the peace, love, & music festival it had been billed as. As I said earlier, none of the festival's actual music performances are shown at all (you only hear the performances from a distance or in the background), which makes this less of a Woodstock movie, and more of an Elliot & Co. story. In that aspect, the film disappointed me. Enjoyable for the most part, the story does drag in a few places and all in all, for me, it was just an ok movie, not a great one.