0.5/4

3.5/4

3.5/4

1/4

3/4

3/4

1.5/4

3/4

0.5/4

3/4

2.5/4

1.5/4

3/4

1.5/4

4/4

3.5/4

1.5/4

2/4

2/4

2.5/4

2.5/4

2/4

2.5/4

3/4

3/4

Prev 25 | Next 25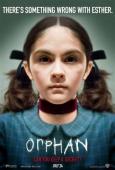 Orphan
Very Creepy
2.5/4 stars
I tried to get my better half interested in 'The Proposal', but she just wasn't in the mood for anything Sandra Bullock-ish. Then the listing for 'Orphan' caught my attention and I proclaimed I was going with or without her! She's a sucker for a good thriller, or at least the promise of one – so it was a done deal. Personally I had to wonder as I had not heard much buzz on this or seen much in the way of promotion. My gut feeling was that it was probably truly bad, or was just 'flying under the wire' as a box-office near miss. I was willing to investigate!

For starters, we have Jaume Collet-Serra in the driver's seat as the director. He last helmed 'House Of Wax' (2005), and his sophomore effort in 'Orphan' shows a lot of professional growth. I noted a lot of the outdoor scenes were shot during overcast or snowing periods, which kept the mood of the story dark as well. Relative newcomers, Alex Mace (story) and David Johnson (screenplay), deliver a script that is mostly tight and on track throughout.

The story involves a couple, Kate and John Coleman, who already have two children, but after Kate (Vera Farmiga) suffers a difficult still birth, decide to add a third child via adoption. Central to the film is the mystery that eventually deepens around the young girl they end up selecting. The story begins to resemble 'The Good Son' (Macaulay Culkin, 1993), but other elements such as alcoholism and infidelity are added to the mix, making this a lot more complicated than expected.

Vera Farmiga ('The Departed') does an excellent job as a troubled mother who is wrestling with her personal demons, but always puts her children first. Her portrayal is only marred in one scene by a reaction that comes off as a bit over the top, but I blame the script more than the actress. Peter Sarsgaard ('Skeleton Key', 'Jar Head', 'Flight Plan') as the husband, John, also plays well off of Vera's character. The spotlight is really on Isabelle Fuhrman, as Ester, the adoptee in this story. A relative unknown, she does a terrific job of switching from charming waif to a malicious witch in a blink. She has a couple great one-liners that are delivered perfectly. Aryana Engineer has quite a challenge as she plays existing daughter Max, who is deaf. Turns out that Aryana is not deaf herself, but she is proficient with sign language because her real-life Mom is. Rounding out the immediate cast is Jimmy Bennett ('Star Trek', 'Evan Almighty') as the son, who initially bears the first hint of Ester's potential wickedness.

While one could find fault with a few elements in the storyline as delivered, 'Orphan' does NOT opt out for the standard Hollywood thriller ending (ok, not completely anyway) and builds slowly and deliberately with additional twists. For the most part, 'Orphan' also avoids the fake scares, but when it does tweak the thrill-meter, some of the scenes are pretty intense. The Mrs. take on this one? She confided that it was a lot better than she was expecting. For my part, I definitely agree!