0.5/4

3.5/4

3.5/4

1/4

3/4

3/4

1.5/4

3/4

0.5/4

3/4

2.5/4

1.5/4

3/4

1.5/4

4/4

3.5/4

1.5/4

2/4

2/4

2.5/4

2.5/4

2/4

2.5/4

3/4

3/4

Prev 25 | Next 25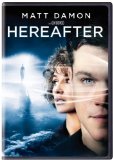 Hereafter
Not One Of Clint's Best
2/4 stars
Clint Eastwood's notable directorial offerings include films such as 'Unforgiven' (1992), 'Bridges Of Madison County' (1995), 'Million Dollar Baby' (2004), and more recently 'Gran Torino' (2008). I always had been a big fan of his as both an actor and director. Many films find him filling both of these roles (like all the ones mentioned). Even when doing double duty on both sides of the camera, Clint always seems to deliver. With a track record like that, I had very high hopes for 'Hereafter'. Unfortunately, after taking this one in, I don't think it will be looked back on as one of his better efforts. While I have a hard time panning his work here, I'm having an equally difficult time in identifying the specifics that make this project appear to fall short.

Writer, Peter Morgan ('The Last King Of Scotland', 'Frost/Nixon'), takes a secular approach to his subject, totally ignoring the aspect of religion, which often plays into people's beliefs on this matter. While from a film-as-entertainment point of view this is not really a defect, it does seem to feel like the topic is being somewhat short-handed because of it. That said; the movie itself has an almost tedious pace, which is obviously required to build in all the elements that lead to the film's conclusion but I still found grating. 'Hereafter' focuses on three individuals and how they are seeking answers after being touched by death. I think, as written, the story has bitten off more than it can 'chew'. While definitely an intriguing look at something all of us think about at one time or another, the film feels like it is trying to cram too much into it's 129 minutes.

Cecile De France plays a French reporter, who is clinically dead after being caught in the 2004 Indonesian tsunami, but is revived. The experience haunts her and changes the focus of her life. Matt Damon is cast as psychic, George Lonegan, who is trying to separate himself from the 'gift' of being able to connect with the 'other side', a gift he considers a curse. You can almost feel the isolation of Damon's character and his performance here is spot-on. We also have Frankie and George McLaren, playing twin boys, one of which meets an untimely death – leaving the other to cope with the devastating loss. While these characters are interesting, they each could have easily been a separate full-length story. The viewer is switched between each of these threads until they eventually intersect (ala films like 'Crash', 'Babel', and 'Two Days In The Valley').

In the interest of developing all three story lines, some possibly intriguing elements are glossed over. Unexplored are the money-grubbing efforts of Jay Mohr, who plays Damon's brother, anxious to cash in on his sibling's ability. Likewise, we see little of the twin's back-story that contains a mother who has some substance abuse problems. With what we do see, there's little in the way of surprises, as you can predict a lot of what's coming. The subject matter itself will probably limit the audience that will seek out this offering (not something your under-30 crowd would probably be interested in – at least not while 'Paranormal 2'is in the same multi-plex) but it still delivers some thought provoking fodder for follow-up conversation. This all adds up to a film (in my humble opinion) that falls short of what Mr. Eastwood has delivered in the past. Hopefully this is simply a fluke and not a trend.