0.5/4

3.5/4

3.5/4

1/4

3/4

3/4

1.5/4

3/4

0.5/4

3/4

2.5/4

1.5/4

3/4

1.5/4

4/4

3.5/4

1.5/4

2/4

2/4

2.5/4

2.5/4

2/4

2.5/4

3/4

3/4

Prev 25 | Next 25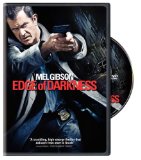 Edge of Darkness (2010)
Confusing and Disappointing
2/4 stars
'Edge Of Darkness' represents Mel Gibson's first major acting roll since 2002 ('Signs', 'We Were Soldiers'). I'm guessing people were looking for some sort of milestone performance; unfortunately his part here doesn't reach such lofty heights. Don't get me wrong; Gibson acts the pants off his character, Tom Craven, a Boston Police homicide detective whose daughter is killed right in front of him. No, the problem is more with the script, I'm afraid, and some of the directing. I've already seen some nit-picking over the fake Boston accent, but I felt that at least he was consistent with it and managed better than a few other well known actors have had in trying to capture all those subtleties of that truly colloquial dialect.

This film is derived from a BBC television series of the same title from the 80's. Writers William Monahan ('Body Of Lies', 'The Departed') and Andrew Bovell were tasked with taking that original story line and fashioning a screenplay that resulted in this 117-minute film. I'm not familiar with the TV series, but I get the distinct impression that there was too much detail from that series to be crammed into this sub-two hour offering.

The relationship that Craven has with his daughter, Emma (played by Bojana Novakovic) is hardly fleshed out and it takes some time before the audience actually learns that they had been estranged from each other. There is also no mention of a mother (Craven's wife) anywhere. Even more confusing are some of Craven's un-detective-like actions following his daughter's murder and the oversight of some obvious trails to follow-up on.

Ray Winstone ('Fool's Gold', 'The Departed') shows up as Captain Darius Jedburgh, a shadowy 'fix-it' man whose allegiance is never made quite clear. His character's part in all of this also adds to the confusion. Attempting to gauge Craven's knowledge of his daughter's dealings in corporate espionage, the audience never knows if Jedburgh is sympathetic or just coldly calculating. The spook's final actions defy any logic I could apply.

Director, Martin Campbell ('Casino Royale', 'The Legend Of Zorro'), does a decent job of capturing the look and feel of Boston. He also gives us one scene where I literally jumped in my seat. However, there are some scenes that detract instead of enhance the movie. The opening scene has three bodies bobbing to the surface of some non-descript body of water. While very high in creep factor, those bodies don't actually come into play until much later in the movie. Also, while interviewing Jack Bennett (played by Danny Houston), the leader of the nefarious corporation Emma worked for, Craven is asked a very odd and unsettling question. It turns out; the question is actually a directorial set-up for a re-use of the same question pointed back at Bennett later on.

The film plays on some of the same corporate misdeeds employed in 'Silkwood', and tries to add the edge of terrorism and counter terrorism as part of the motivations behind key events. However, there are no clear lines between the various security elements involved and the audience can and will be excused for getting confused in any of this. Given the eventual body count, Edge Of Darkness is indeed dark, but this story is more murky than dark.