4/4

0.5/4

4/4

4/4

4/4

4/4

4/4

4/4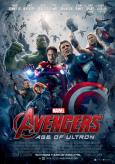 The Avengers: Age of Ultron
Near Perfect Sequel!
4/4 stars
Avengers Age of Ultron is a genuine EPIC motion picture event. There are so many characters, moving parts and expectations involved in this sequel that the usual, succinct review system no longer applies. We need to look at and judge each aspect of the film in a new light because Avengers raised the bar and this film just shatters it. The movie works on every level and really is a genuine motion picture event. Honestly, no blockbuster can possibly top this one for the rest of the year.

Most refreshingly of all, Age of Ultron specificity feels much more intimate and nuanced than its predecessor. Avengers was great as an action filled payoff to Marvel's Phase One but this movie delivers that and so much more.

Avengers Age of Ultron delivers depth of emotion and depth of character combined with tremendous action. It really does deliver what most will now consider to be THE best comic book adaptation sequel ever produced. Honestly, it shouldn't even be argued at this point, even though I'm sure it will be in the fanboy community. Avengers Age of Ultron is superb in every way. Being set up by all those excellent phase one and phase two films laid the groundwork perfectly. This movie manages to advance every main character and does so with an action packed story with heart and even grit. There's no doubt, comic book or not, it's one of the better action/adventure movies in recent memory, maybe the best I've ever seen. What an outstanding film!