2.5/4

3.5/4

3/4

2/4

3.5/4

2/4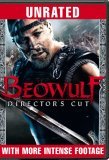 Beowulf (2007)
Okay Retelling, but NOT Epic!
2.5/4 stars
One of the reasons I so disliked The Polar Express was because of the motion-capture animation used in the film. To me, the characters looked lifeless and zombie-fied; almost scary, in some cases. Thankfully, the technological advancements of the animation have improved enough to make Beowulf a much more watchable film - especially in the battle scenes, which are awe-inspiring.

GREATLY breaking away from the original epic poem, the film opens in Denmark in 507A.D, where King Hrothgar (voiced by Anthony Hopkins) finds his kingdom greatly besieged by the giant troll Grendel (the violent and gory opening scene, in which Grendel attacks the hall where the king and his subjects are making merry, is truly jaw-dropping). The king is so distraught, anxious to rid himself of Grendel, that he offers half his fortune to any warrior who can kill the hated beast.

Beowulf (Ray Winstone) gets wind of the offer and arrives with his men, telling great (and, seemingly, exaggerated) stories of famous battles of his past, to prove to King Hrothgar that he is the one to ride the kingdom of Grendel. The king gives him a chance, and - again, in an amazing battle scene - Beowulf does indeed vanquish the deadly troll Grendel (voiced and physicaized, via animation, by Crispin Glover). This really ticks off Grendel's mother (Angelina Jolie - here looking like a highly-polished mannequin, her face and body without flaw), who takes revenge on the kingdom ... and, ultimately, seduces Beowulf in a "pact with the devil" kind of deal that he deeply regrets many, many years later.

I'm sort of on the fence about this film, which is amazing to look at but doesn't inspire a whole lot of connection with the characters (outside Beowulf and Hrothgar - and, surprisingly, Grendel, who in the end remains the most sympathetic character in the film). The animation is amazing, but the characters are still sort of stiff and two-dimensional in how they move and speak; even their eyes don't signal much life. No, where Beowulf succeeds is in the eye-popping action sequences, where the animation bursts from the screen and engages your senses full on. Makes me wish I had seen the film in IMAX theaters; that must have been a trip.

But the balance between good and bad evens out to just a decent film. Nothing great, but definitely worth seeing. The voice performances are wonderful (especially Hopkins), and with a supporting cast that includes John Malkovich, Robin Wright Penn, Sebastian Roche, and Alison Lohman - you can't go wrong.

I just wish I had connected more a little more emotionally with this film, and its characters. Other than that, it's a real winner.